Fiona the Hippo is already looking at prospective suitors (!!!) which is adorable, partly because she's a baby, and river hippos can't reproduce until they're six; mostly because we get to project narratives of romantic destiny upon a chubby aquatic herbivore who mainly likes swimming around and eating watermelons. But Fiona has also been receiving a nonstop torrent of messages from three-year-old Timothy of the San Antonio Zoo, who's been raising some... red flags.
This started on March 12th, when Timothy introduced himself on social media as a man who recently moved out of his mom's house and then immediately committed the first sin of social media dating: proposing a meet-up on the first message. No, Timothy!

Anyhoo, I have seen your pictures and videos on the internet at the Cincinnati Zoo & Botanical Garden and think you are the most beautiful hippo I have ever seen. Perhaps we can meet someday and be boyfriend and girlfriend? I am single and available. I hope you #HippoSwipeRight#TeamFiona Sincerely Timothy PS, Hippos rule and elephants drool!
The Cincinnati Zoo, her media rep and Fiona's official dating screener, tweeted a courteous, but cool, reply on her behalf:
Fiona thinks you're cute too, but it's what's on the inside that really counts! Your DNA will ultimately decide if you are the one for our little diva. She'll be with her mom for a while, so you have time to consider if you are willing to put up with her fame. Any potential mate would have to be thick skinned and okay with taking a back seat. Are you okay with paparazzi? Are you willing to move out of the way during photo shoots? Most importantly, are you willing to relocate to Cincinnati?
G/O Media may get a commission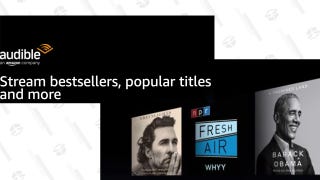 FREE
Audible Premium Plus 3-Month Free Trial
Timothy wrote back immediately (faux pas number two!) opening with "Are you up?" (noo) and then writes "....sounds like you're saying 'there's a chance!' OMG!" (ahhhh!)
What followed were six months of nonstop social media outreach in bids for Fiona's heart.
In a new episode of The Fiona Show, her keepers address "hippo matchmaking," (hint, hint) and mention that there's also baby Tony from San Diego or maybe "an old sugar daddy" whose DNA can help to preserve the genetic diversity for the good of the entire species which is a LOT OF PRESSURE for a baby who is years away from even going to a party let alone beginning to explore her sexuality.
This is all stressing me out, so I'm going to watch Fiona obliviously chilling.
Night night Fiona!