In the approximate 2.6 billion years since Harry and Meghan announced their engagement by matching beaded bracelets from their trip to Botswana where they spent five days camping out together above the Boteti River–facts I know–I have learned more about Meghan Markle than I know about my own medical history. I know the name of the person Meghan Markle first kissed in the summer of 1995 (Joshua Silverstein) and what he's up to, where he lives, his age, and the ages of his children. I know that around 2013 when Meghan Markle split from her first husband, she took custody of the Vitamix. I know she once worked at a froyo store called Humphrey Yogart earning $4/hour and met her "idol" Baywatch star Yasmine Bleeth in the parking lot. I know she gave the Queen of England a singing hamster at 6pm GMT on Christmas Eve 2017 in the drawing room at the Queen's Sandringham Estate (it played well). Her mom's name is Doria, and she is a yoga instructor. Her father is a lighting designer and has worked on General Hospital and now lives in Mexico, and his nickname for Meghan is "bean," and he's lately undergone surgery to clear coronary blockage after a heart attack, but he's okay now. I know, and wish I could un-know, that she likes "filthy, sexy" zucchini. I do not remember a time before this and can not envision one after.
But I'll enjoy the last remaining hours in this zone before tomorrow, which is Sunday, which is America's day of morning political talk shows where idiots make idiotic statements, and we all get MAD and sucked into a blender of shiiiiiiiiiit.
So, before my Twitter feed once more turns to ash, thanks for the memories! A Happy International Royal Wedding Day and Saturday to you and yours. It's been a wild ride.
G/O Media may get a commission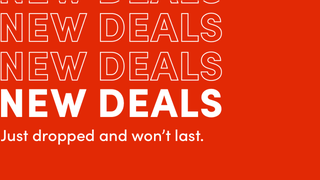 Up to 70% off
Wayfair - Cyber Week Deals
BBC!!!