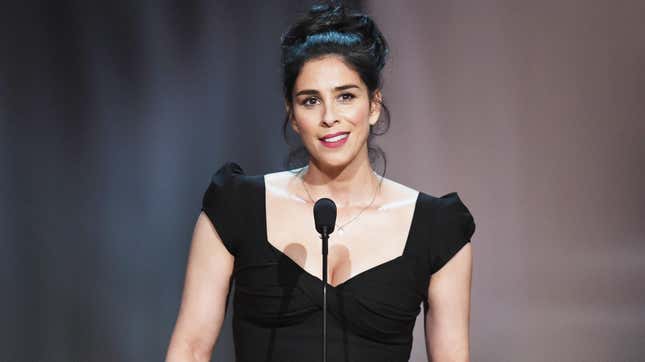 Like spotted lantern flies or Barbie movie marketing ploys, artificial intelligence seems to be everywhere these days. At home, on our phones, hell, even at work, the algorithm is out to get us all! In a minor, though appreciated, retaliation against this particular existential threat, comedian Sarah Silverman is among three writers who have filed lawsuits against OpenAI and Meta.
Silverman, whose memoir The Bedwetter came out in 2010, and authors Christopher Golden (Ararat) and Richard Kadrey (Sandman Slim) have filed class action lawsuits against both tech companies for using copyrighted materials from their books as part of their underlying language learning models (LLMs). It's almost as if the supposed geniuses behind these companies (Mark Zuckerberg and Elon Musk, the latter of whom founded OpenAI) don't actually care about the work that makes their products and software possible!
These LLMs use texts like books as "training datasets" to strengthen their algorithms. OpenAI runs ChatGPT, which the plaintiffs allege effectively plagiarizes these authors' books if you ask it for summaries of them. "Because the OpenAI Language Models cannot function without the expressive information extracted from Plaintiffs' works," the suit claims, "the OpenAI Language Models are themselves infringing derivative works, made without Plaintiffs' permission and in violation of their exclusive rights under the Copyright Act." The suit against Meta reads similarly.
Sure, it feels sort of random that, out of all the authors of all the books, Silverman is the one making the charge. But I will take beautiful, human randomness over calculated, algorithmic hellscapes any day. I've added Silverman and the other authors in this class action suit to my daily prayers.
The lawyers filing on behalf of Silverman and the other plaintiffs, Joseph Saveri and Matthew Butterick, explain on their website that the "project of steer­ing AI sys­tems toward some­thing other than the worst ver­sion of human­ity is known as align­ment." Wonderful that there's a word for that process. Now I can only hope that there's a push toward it as well.