Sarah Silverman, the voice of the post-2000 female id, has offered an indecent proposal to billionaire Mitt Romney backer Sheldon Adelson — commit $100 million to Barack Obama instead of Mitt Romney, and she'll personally scissor the shit out of his nearly septuagenarian Las Vegas crotch. Then she sorta demonstrates on a tiny dog.
For those of us who aren't South Park watchers, lesbians, or people who hang out with South Park-watching lesbians, scissoring is the act of genital stimulation that's achieved by rubbing one's nether regions against the nether regions of another in a sort of scissorlike formation. For those of us who don't like paying attention to politics, as the video points out, America's billionaires are extremely interested in electing Mitt Romney President (although to be fair, Adelson was a big Newt Gingrich supporter during the primaries. He's just on Team Not Obama). So what do you get when you combine a comedienne adept at sideways dry humping and a rich dude who she disagrees with politically? An offer Sheldon Adelson will almost certainly refuse. Silverman promises,
I will scissor you through a bikini bottom through to fruition. That means until you come! Do you know how many billionaires are giving money to Romney? All of them. How many of them are getting scissored by a bikini bottomed Jewess with big naturals. How many, Sheldon?
If you're interested in supporting the cause of Sarah Silverman scissoring Sheldon Adelson or Sheldon Adelson taking his $100 million and shoving — erm, scissoring — it, you can learn more or sign a petition here.
In the meantime, let's applaud Silverman for having the foresight to suggest scissoring rather than full on face-to-face dry humping. The eye contact implications of that are just too horrifying.
G/O Media may get a commission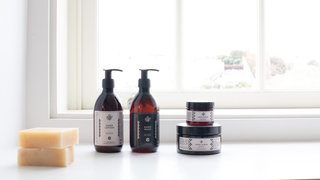 Exfoliate and Hydrate
The Handmade Soap Company