In a NOW Toronto article, actor-turned-writer/director-turned showrunner of the upcoming Netflix series based on Margaret Atwood's Alias Grace Sarah Polley, says that sexual harassment in film is an "every single day experience." Polley says that the sexism she witnessed and experienced in her 25 years of acting is part of the reason why she moved to focusing on work behind the camera after her last role in 2010's Trigger. Says Polley:
"If you're surrounded by 60 people who aren't standing up for you, it does make you question whether you have the right to stand up for yourself. If two or three people would come up to you on a set and say, 'Hey that was really wrong, we should do something,' most female actors would say, 'Absolutely, let's do something.' But no one does that. Very few people acknowledge that anything wrong has even happened. That's the culture. We have to change that, and we can."
Without naming names, she also shares this disgusting anecdote:
She remembers being a nine-year-old on set watching as a camera operator spouted off incredibly sexist comments. She lashed back, "You make me really hate men." He responded: "You won't be saying that when you're 40 and you've got cobwebs in your box."

Later that same day, a female focus puller was crying. She turned to Polley. "If it's okay, just don't say things like that because then he takes it out on us all day long."
The piece says that Polley has other "horrifying" stories "of not just harassment but assault; stories that are not hers alone to tell."
"There are things that would make your blood run cold," she promises. "And women have just had to put up with it."
G/O Media may get a commission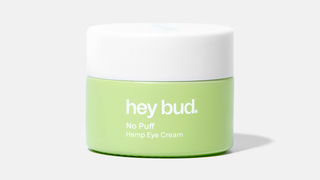 15% off
Hey Bud - No Puff Hemp Eye Cream
Regarding Alias Grace, which is being directed by a woman (Mary Harmon) and produced by mostly women, Polley is at least woke on a lip-service level. "It's all women," she says. "That's great. But it's also all white women."
Further:
She's noticed how the fight for inclusivity is often co-opted by white feminism, where debates regarding representation often segregate diversity as a separate issue to be dealt with later.

"That's something that the same people who are fighting for gender aren't being as loud about," says Polley. "It's about race, and it's also about socioeconomic diversity. How many filmmakers do you know who didn't come from some amount of privilege? I'm not interested in only hearing voices of the affluent."
Polley knows that she's not the right person to tell stories on behalf of people of colour. She knows she could never fully comprehend what it is to be marginalized. "Whiteness has an ignorance that is bottomless," she says.