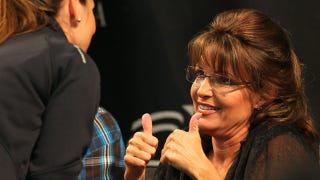 Americans are simply desperate to see the Sarah Palin documentary The Undefeated — but not enough to get up off the couch and buy a movie ticket. ARC Entertainment announced today that the film will be released on video-on-demand and pay-per-view in September, and on DVD in October, in an attempt to reach a wider audience. From The Hollywood Reporter:
While ARC said it will continue to play the film in theaters throughout August and September "as demand across the country remains high," that wasn't evident in this weekend's box office numbers. While the movie expanded from 10 theaters to 14, it collected just $24,000 for the weekend, for a per-theater average of just $1,714. To date, its total box office amounts to an estimated $101,000, according to boxofficemojo.com.
Clearly the masses are just waiting to buy Walmart's exclusive "Special Edition" DVD, which will contain additional content. Presumably, this version will include a digitally altered scene in which it appears that the moose shot at Sarah Palin first.