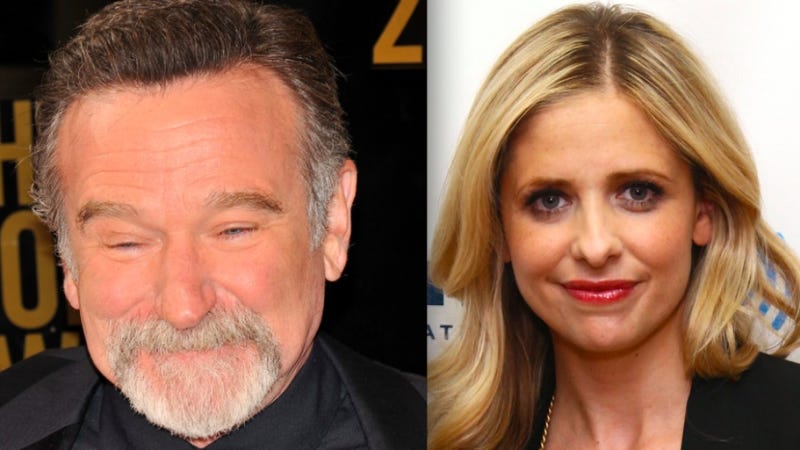 Like that part on a baby's head where if you drop them they die, there is a dangerously soft spot in my heart for Sarah Michelle Gellar because, like many of us, I consumed four seasons worth of Buffy The Vampire Slayer at an impressionable braces-wearing age. And also: Cruel Intentions! Nothing wrong with that.
Last year's soapy CW show Ringer only lasted a season (justifiably), and it was super-fucking-disappointing when HBO passed on Kathryn Bigelow's pilot The Wonderful Maladys, which starred Gellar as a member of an eccentric New York family and Adam Scott as her ex-boyfriend.
But, huzzah! SMG is returning to the small screen on the CW's Crazy Ones, the brainchild of Ally McBeal creator David E. Kelley, also responsible for similar workplace comedies Chicago Hope, The Practice, Boston Public, Boston Legal and (bleh) the Adrienne Palicki reboot of Wonder Woman. But we can forgive him that. Right? Crazy Ones might withstand the test of time/ratings because Robin Williams also headlines as Gellar's dad.
The show is a single-camera comedy, about an advertising agency run by a father and daughter. Williams plays Simon Roberts, while Gellar plays his driven, yet practical daughter, Sydney.
Here's hoping this show ranks up there with Robin Williams' most memorable moments: the entirety Aladdin, the entirety of The Birdcage, and that soul-scarring live cunnilingus impersonation that festers in the back of your eyeballs after you watch it, forever.
'Sarah Michelle Gellar to Star in Robin Williams' CBS Comedy 'Crazy Ones' [THR]