SJP looks predictably tiny and pretty on the January cover of Elle, and inside, she talks about her kids, working for Halston, and everyone's favorite topic, getting older in Hollywood!
Okay, cute kid stuff first. On seeing the twins after their birth:
"[Meeting them] is hard to describe. Everything is suspended. I can't even tell you what other sounds were in the room. I loved them immediately, but everything-their size, the shape of their heads, the color of their hair, their noses, their eyes-was new to me. They looked surprisingly different from James Wilkie, which I wasn't expecting."
And one of the twins, Tabitha, is a girly-girl:
She's crazy for bows; she wants her head covered in them."
But since SJP is a whopping 45, she has to talk about the kind of stuff that 47-year-old Johnny Depp rarely gets asked: How does it feel to be SO FUCKING OLD. Dr. Dre, Alan Cumming, Martin Lawrence, Jon Cryer and Charlie Sheen were all born the same year as Sarah Jessica Parker, but do they ever have quotes like this?
On aging naturally:
"I don't know what I can do about the aging. Yes, I am aging. Oh my God, I'm aging all the time. It's like those flowers that wilt in front of you in time-lapse films. But what can I possibly do? Look like a lunatic?"
G/O Media may get a commission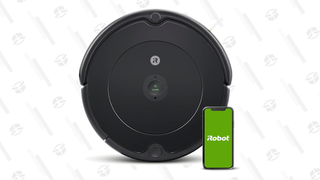 35% Off Black Friday Deal
iRobot Roomba 694 Robot Vacuum
What can she possibly do, guys? What can she do? Maybe if we didn't live in a world where Anderson Cooper's wrinkles and gray hair are sexy but the same on a woman are really really hard to find, she could just, you know, live her life. Sigh. More carefully lit, Photoshoppy pix here.
Why We Love Sarah Jessica Parker [Elle.com]