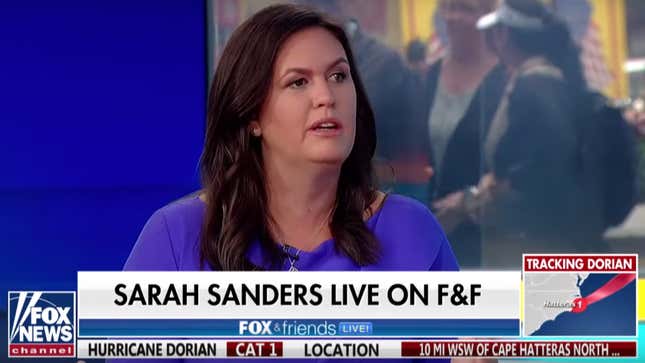 Former White House Press Secretary Sarah Huckabee Sanders made her debut as a paid Fox News contributor today, using her cameo on Fox and Friends to tell Americans that the economy is amazing, actually, promote her new book, and talk about how mean women are to her.
Taylor Lautner Doesn't Even Remember Saying 'Bella! Where the Hell Have You Been Loca?'
Fox and Friends co-host Steve Doocy asked if she's still "taking heat" when she goes out to eat, referring to a 2018 incident in which Sanders was asked to leave a restaurant in Virginia. She admitted to getting hassled sometimes, less so back home in Arkansas than she does in New York City. But getting kicked out of restaurants troubles her far less than the "nasty" comments she gets from women, she said.
"What I always find interesting is 99 percent of the people that come over to say something negative and to attack you are women," Sanders said. "And I find that very startling from a group of people that claim to be the champions of women empowerment."
Unfortunately, she continued: "I'm only the third woman and the first mom to ever be the White House press secretary, and yet women attack me relentlessly instead of being proud that we have more women doing those types of jobs."

Fox and Friends co-host Ashley Earhardt asked, "Do you ever say that to them?"
"Usually what they're looking for is a reaction," Sanders said. "I always find it's best to nod, smile, and say thank you for your time and walk on, because I don't want to engage in a fight."
Sanders deadpan drawl of a tirade resembles the predictable endpoint of the shallow, Lean In-adjacent type of feminism—an unrefined/flat argument that champions women just for being in the room, no matter how harmful that room might be.

It's a feminism that blindly celebrates any woman CEO, any woman politician, any woman billionaire. It's a feminism that values any woman with a modicum of power, and it's a feminism that feels wildly out of touch now more than ever, especially when inequality is rampant and women are fully capable of being complicit—even organizing—regimes of power that are damaging to swaths of humans, women included.
Naturally, Sanders is ignorant enough to think that she's made a salient point while missing the point entirely. You don't get feminist points for being the only woman in the room when the room is fascism.