A wavy pie crust outlining a polka-dot stage curtain greeted a full house on a recent Sunday afternoon at Cambridge, Massachusetts' American Repertory Theatre. The seats were packed with locals and folks like myself who'd come from New York City to see Waitress: A New Musical, starring Tony Award winner Jessie Mueller and scored by Sara Bareilles.
When I first heard about the musical, it was like an estrogen-packed dream come true. A live performance of my favorite melancholy romantic comedy film about a poor Southern waitress who gets knocked up by her abusive husband, only to find purpose in their child thanks to a romance with her OBGYN and knack for baking delicious pies? Sold. And in driving distance from New York City? Double sold.

As the curtain rose to reveal Mueller dressed as Jenna wearing a blue waitress uniform in a faux diner kitchen, I hoped the performance would be worth the trip.

The opening song floated in with a chorus of "sugar, butter, flour" sung in various octaves. I settled in beside a trio of female retirees with kleenex packs on standby, and my husband, a male victim to this ovary party.
The second song, led by Mueller and accompanied by supporting actresses Keala Settle (who plays Becky) and Jeanna De Waal (Dawn), got off to a rocky start. Settle was off-key but eventually found her footing at the song's bridge. The chemistry between the trio, as well as their silent-but-cranky diner boss Cal (played by Eric Anderson), was smooth, as they served customers and gabbed about Jenna's pregnancy and Dawn's online dating profile. Cal's delivery of one-liners like "I'm going to leave before I die of estrogen asphyxiation" earned hearty laughs from my husband as well as the rest of the crowd.

G/O Media may get a commission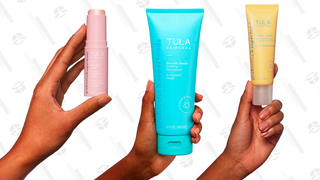 Dr. Pomatter, played by Drew Gehling, was adorably awkward and might've been outmatched by the award-winning Mueller, but he rose to the occasion. Adding endearing character tweaks like twirling his pompadour before Mueller walked in for a pre-natal appointment, Gehling made the role his own despite the long shadow of Nathan Fillion, who originally played the off-beat doctor in the 2007 film alongside Felicity's Keri Russell as Jenna.

Joe Tippett's Earl, Jenna's narcissistic and abusive husband, was given a darkly humorous spin. Instead of just delivering menacing looks and smack-worthy whines about how the world doesn't pay him enough attention, Tippet's interpretation had a comedic edge that was sinister comic relief, thanks to timing and shadowy lighting changes.

Mueller, a well-recognized talent and strong voice as seen in her Tony Award-winning role in Beautiful: The Carole King Musical, shouldered the play. But De Waal secretly stole the show with her portrayal of the over-the-top weirdo Dawn. For example, when Dawn met her online profile-date-cum-soul mate Ogie, it was a match made in theater heaven. In one scene where romance in blooming among each of the play's couples and everyone's getting busy, Dawn is dressed as a Revolutionary War character sitting in a chair with the American flag as a blanket, when suddenly Ogie appears from beneath it after what appears to be a mean cunnilingus session.
Emotionally, Mueller's performance of Jenna crystalizes in her tear-jerking delivery of "She Used to Be Mine," a sad ballad about life's disappointments and how Jenna has no idea what the fuck she's doing. Touting Bareilles' trademark bare piano keys, falsetto notes and lump-in-your-throat lyrics like "a girl... who'd get hurt but who learns how to toughen up when she's bruised and gets used by a man who can't love and then she'll get stuck.," the show's second half was a parade of "cry now dammit" moments. When the retiree gang beside me wrestled their kleenex from their pocketbooks, I wanted to ask for a spare.
By the play's finale, when Jenna comes into a windfall of cash to open her own pie shop and tells Earl to kick rocks, it was clear that I, and the rest of the audience, had made the right decision in seeing Waitress. The show is a delightful combination of what fans love about the film, Bareilles' talents and musical theater rolled into one—but unlike me, future fans won't have to travel to Whitey Bulger's hometown to catch the show. Waitress joins Broadway at the Brooks Atkinson Theatre in March 2016.
---
Contact the author at Hillary@jezebel.com.
Image via American Repertory Theater.