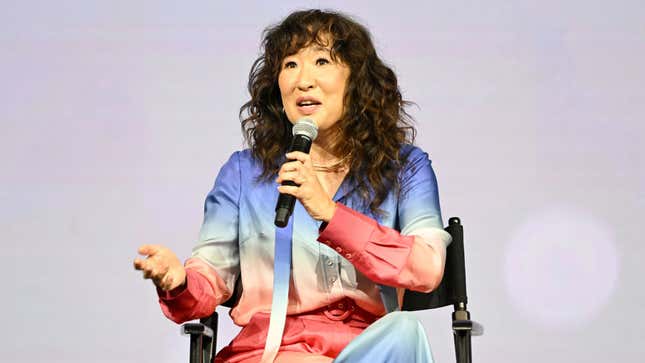 By now, Sandra Oh is a household name: We know (and love!) her as Cristina Yang in Grey's Anatomy, scene-stealing Patti in Under the Tuscan Sun, and as the titular role in Killing Eve. Oh has established herself, but some of her most exciting roles these days aren't coming from big names in Hollywood—instead, they're coming from younger millennial creators, and Oh is glad for it.
Ana Gasteyer Satirizes the Girl Boss in 'American Auto'
"It's like being able to get over a bad boyfriend. They're not going to call," Oh said in a New Yorker interview published earlier this week of the white male directors who haven't and probably won't reach out to her to star in their projects. "Just move on and hang out with the young women who want you to be their mom. If you're going to put all your stock and wait for the white dude to give you the opportunity, or to give you the validation, or to say, 'Now you can be who you are, because I say so'—that's destructive.'"
In particular, she loved working with Iris Shim, the writer-director behind the 2022 Korean American horror film Umma: "That's who I want to work with. That film and the script, it was really an examination of generational trauma, interpreted through a type of genre lens," Oh said.

It makes sense that Oh is drawn to films that allow her to explore and portray Asian stories in more nuanced ways; the 51-year-old actor has endured a lot of racism during her Hollywood tenure. "Not only is shit hard, it's extremely unfair," she told Vulture in 2018. "I felt it, and I have felt it deeply." When Oh first arrived in Los Angeles in 1996 to pursue acting stateside (an experience which she called "crushing"), an agent who said she was trying to do Oh "a favor" told her to move back to Canada. She was basically saying, "Listen, no one's going to tell you the truth, so I will. You should go back home and become famous there and then try," Oh told the New Yorker. "She's saying, 'I'm going to tell you the truth. No one's going to tell you the truth. You don't belong here.'"
G/O Media may get a commission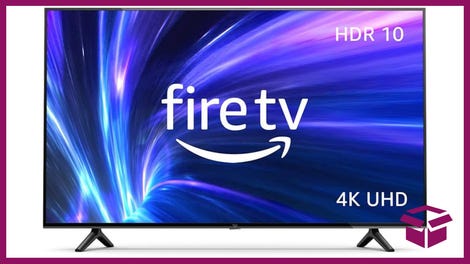 42% Off
Amazon Fire TV 50" 4K Smart TV
The comment struck a nerve for Oh: "It tapped into a very deep immigrant—and I would maybe even say East Asian immigrant—mentality, which is, What else do I have to do?" she said. At that point, she'd already done work in theater, TV, films, and won awards for her performances in Canada, and didn't know how much else she needed to prove. For her, it confirmed a certain mentality that permeated Hollywood at the time: The message that she got from the agent was, "You're about to go into an industry where the majority of people think like I do. So don't expect that it's going to be the same for you as it has been for these white actresses," Oh said.
Oh has shared before that the internalized racism affected her so much that she couldn't believe it when she started being offered lead roles, like in Killing Eve. "It's, like, 'I can't even see myself,'" she told the New Yorker, and "how deep that comment from that agent was still living in me."
Oh got her start in acting in Canada, and she's spoken plenty about the impact that the country's multicultural policies had on the opportunities that she was afforded as a young aspiring actor. "I have real strong thoughts on affirmative action, because I would not have gained the experience that I gained without 'multiculturalism'—you can fucking call it whatever you want, but it's making room for other people to get a shot," Oh said. "It's not like I'm saying multiculturalism let me be the lead of anything," she explained. "But let's say it's a short film about [drinking and driving] among the students. They can't have all the students be white, because these were films that they would show in classrooms."
With more diverse, millennial creators getting their projects greenlit, Oh is excited to play a part in bringing explorations of "existential stuff" and identity—like in Pixar's Turning Red, in which she played Meilin's mother—to life. "That just happens to be the timing, my timing in history right now," Oh explained. "That there is someone with a long enough track record and with enough work that you can say, 'Well, this person can take this on. Are you going to be able to entrust my interpretation of my mom in this person's hands?'"
I'd trust Oh to do just about anything.