On Monday morning, a profile of Tiffany Haddish sparked what might be the greatest blind item since Becky With the Good Hair—let's call it Becky With the Good Teeth. For those of you who were not on the internet yesterday—or who were only on, like, The Economist and Financial Times—Haddish told GQ that she witness an "actress" bite Beyoncé Knowles Carter "in the face" at a party in late December. She would not name the actress, but armchair sleuths decided to do some digging.

After examining photos and rumored lists of attendees, people began suspecting Jennifer Lawrence due to her admitted party antics (she has an alter ego named Gail). Unfortunately for the Law-haters, it was eventually revealed the she was in New York the entire week of the party. (Some quick Googling confirmed this.)
For a while people also suspected Scarlett Johansson, but a closer look at the photos those claims were based on revealed she was at a different party with Beyonce, not the one in late December.
Because not many photos of the party exist on the usual wires, the remaining list of actresses who were definitely there is fairly small. So the internet decided to go ahead and blame these two: Sara Foster and Sanaa Lathan. They denied the accusations on social media:
G/O Media may get a commission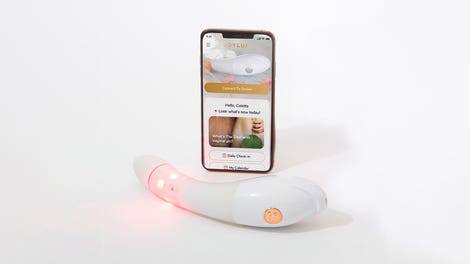 $50 Off
Joylux vFit Gold Device
But there's still hope, and that hope lies (expectedly) in Chrissy Teigen. Monday night, she tweeted that she had a good idea of who Becky With the Good Teeth is, and that she is "the worst." Unfortunately, that guess turned out to be wrong. (Because I love drama, this leads me to believe she initially thought the biter was Scarlett Johansson.) Not long after, she had an a-ha moment and tweeted this:
Unless I'm misinterpreting this, Chrissy knows who the biter is, and the name apparently came from way out of left field. So it looks like we all have more homework to do. Will you pleeeeease email me at bobby@jezebel.com if you have any ideas? I need this. We all need this.
---
Here's something Anna Faris said about the concept of marriage on Dax Shepherd's podcast.

"I need to figure out what the purpose is. Is it safety for your children? Is it convention? Is it so other people respect your relationship more? For me, I'm just not quite sure where it fits, especially when it feels so easy to get married, and then the untangling — when the state gets involved.

[...]

Chris and I did talk about [it]. We got, like on the Twitter feed, 'Love is dead' and 'relationship goals.' I think what we were also guilty of — we obviously cultivated something and it was rewarding for a while. It was like 'People seem to think we got all this shit right.'… I had a little bit of a childish feeling of 'Oh come on, fucking grow up!' Like, [there was] a little bit of anger. But that's not fair either, because I cultivated it."
[DListed]
---