While San Francisco is known for being one of the most dog-friendly cities in the United States, the city has recently seen a spike in the number of abandoned dogs brought into area animal shelters, with 2,424 dogs taken in in the last fiscal year, compared to 1,939 in 2008. Equally distressing, San Francisco has long been combating an extreme panhandling problem — a 2011 survey by the tourism bureau showed homelessness and encounters with begging to be the area's biggest "inconveniences." Now, a new program developed by the organization Housing Opportunity, Partnerships and Engagement (HOPE) and the city-run shelter Animal Care and Control is aiming to quell both issues by pairing problem puppies with people known to panhandle.
The program, called Wonderful Opportunities for Occupants and Fidos (WOOF — get it?), will be matching dogs not yet suitable for adoption because they are either too fearful and need more socialization, too rowdy and need basic training, or are too young to be spayed or neutered with individuals who, for $50-75 a week, will take the dogs into their custody and agree to no longer solicit money on the street. The custodians, or "temporary guardians," will all be screened for mental illness and cannot have history of violence. Other requirements for the program is that the person has a permanent place to live (WOOF has teamed up with the Community Housing Partnership, which provides permanent supportive housing for formerly homeless people) and is free from drug and alcohol addiction; it's acceptable if they are actively in treatment.
Says Rebecca Katz, the director of Animal Care and Control, "The program was portrayed almost like we were going to drive by people on the street and hand them puppies out of a truck, but we have safeguards in place."
WOOF kicks off in August with a two-week to two-month trial period starting with only 10 caregivers (individuals unable to join immediately will be given the opportunity to take shifts working at Animal Care and Control). If the project is successful, it will ideally expand to a greater number of people and canines.
Says Gail Gilman, chief executive of Community Housing Partnership, "This has a huge potential to be a pathway for many individuals to learn some skills and supplement their income in a more positive, productive way and we know that caring for animals is incredible for individuals who have been isolated and disenfranchised from society."
G/O Media may get a commission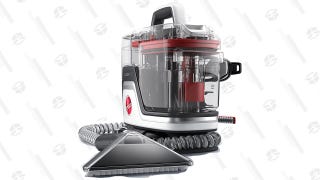 Save $10
Hoover CleanSlate Plus Carpet & Upholstery Cleaner
Project pairs puppies with panhandlers to combat homelessness [LA Times]
San Francisco Hopes to Curb Panhandling With Puppies [The Atlantic Cities]
Image via HelleM/Shutterstock.