The two suspects killed in a shootout with police yesterday after a massacre in San Bernardino that killed 14 and wounded 17 were a married couple with a six-month-old daughter. Police initially reported that they were looking for "three white men" in tactical gear: the truth is turning out more bizarre. Here's everything we know.
Police have identified the suspects as Syed Rizwan Farook, 28, an American citizen, and Tashfeen Malik, 27, his wife, possibly born in Saudi Arabia, and whom he met online and brought back the United States. The couple had a six-month-old baby girl. A third person was taken into custody after the shootout that killed Farook and Malik, but ABC 7 now reports that police say Malik and Farook are the only two suspects.
Per the New York Times, Farook, an environmental inspector for the county health department, attended a holiday banquet at the Inland Regional Center on Wednesday morning. There was a "dispute," and he left the building, returning with his wife in tactical gear, toting assault rifles, and semiautomatic handguns.
Chief Jarrod Burguan of the San Bernardino Police Department said he suspected, obviously, that there was some level of planning prior to the attack: "I don't think they just ran home and put on these tactical clothes."
The Los Angeles Times spoke to Farook's coworkers, who said the two appeared to be living a quiet life: Farook had "recently" returned from Saudi Arabia with Malik, who he met online, they said. He was described as quiet and polite, with "no obvious grudges."
G/O Media may get a commission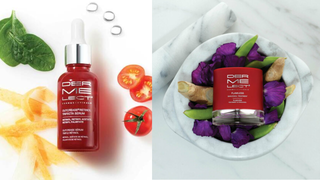 Save $19
Retinol Renewal Kit
After opening fire on Farook's coworkers, the two fled the scene in a dark-colored vehicle; police found three "pipe bomb-style devices that they believed to be explosive devices" at the scene, per ABC 7, which were disposed of by a bomb squad.
Police followed "tips," they said without elaboration, to a home in Redlands, where they spotted the car and gave chase. Both were killed in the subsequent firefight, and a police officer was non-fatally wounded.
There is still no clear motive for the massacre, and police said terrorism has "not been ruled out," per the L.A. Times.
The Daily Beast initially misidentified the male suspect who was killed as Syed Raheel Farook; he is Syed Rizwan Farook's brother. Daily Beast executive editor Noah Schachtman apologized for the error.

The Bureau of Alcohol, Tobacco, Firearms and Explosives (ATF) told the L.A. Times that two of the guns used in the attack were purchased legally, and that the agency was "investigating" the provenance of the other two.
---
Contact the author at anna.merlan@jezebel.com.
Public PGP key
PGP fingerprint: 67B5 5767 9D6F 652E 8EFD 76F5 3CF0 DAF2 79E5 1FB6
Survivors of the shooting arrive at a community center to be reunited with their loved ones. Photo via AP Images