The better to introduce its new Galaxy S IV space phone to the public, Samsung hired a troupe of actors to perform several cheesy, poorly-written burlesques about the phone's appeal across the sundry demographics that comprise the American space phone purchasing contingent. This went on for about an hour, according to several dismayed tech writers, and though the whole shlocky show relied on unfortunate stereotypes, perhaps nothing was more shockingly offensive and tone deaf than when an emcee used a group of giggling, bridesmaids to illustrate all the wonders the Galaxy S IV could work...for laaaaaydeeeez. Wonders like cooking, wedding planning, and — just in case you were in the market for a phone that would both call your friends and make you feel fat simultaneously — weight loss.
The Atlantic Wire's Rebecca Greenfield was among the witnesses to Samsung's musical theater abomination, but although she was rightly put-off by the June Cleaveriness of the whole spectacle, she wasn't exactly shocked:
This kind of alienating-to-women stuff happens all the time at tech events and shouldn't be taken as a surprise. And yet, it is a surprise. While it might seem like a way to draw in female customers, it's just another reminder that tech is a dude's club.
Greenfield was referring specifically to a Google keynote address last June about the Nexus 7 tablet, whose magazine perusing capabilities were showcased with a Nexus cover of Shape that featured actress Malin Akerman in a bikini. Male members in the audience whistled, just to give the whole thing an authentic lodge-meeting feel.
The Galaxy S IV show seems to have been staged by a sexist who watches Smash unironically. There was tap-dancing, a gaggle of tittering bridesmaids, and a hacky joke about women lusting after shirtless gardeners (real gardeners only ever wear pit-stained t-shirts, obviously). CNET's Molly Wood summarized the bridesmaids skit with particular dismay:
The Brazilian woman was hot (duh). A bride-to-be arrives on stage with a chirpy, "check out the ring!" The Air Gestures that let you control the phone without touching it are presented as a boon to giggly women with annoying voices whose nails are wet and who don't want to put down their drinks. The comically alcoholic one, DeeDee, then proceeds to demo how eye tracking can pause a video when you look away from the screen... as she looks away at a hunky gardener type who proceeds to take off his shirt.

"While the women are cooling down," says the emcee, "why don't you tell us about S Health?"
G/O Media may get a commission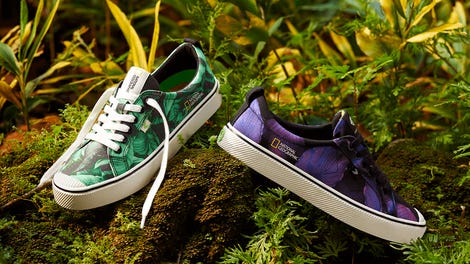 New New New
Cariuma + National Geographic
Yes, why don't you, ladies, hmm? Tell all the nice folks about the S Health, which apparently monitors your weight with the magic of sensors. Why, maybe in one word, is the S Health so wonderful? Because, one of the bridesmaids said as she drained her wineglass, "...weight!"
There you have it! The Samsung Galaxy S IV, a phone that can literally communicate with the heavens (or at least the space garbage that envelopes Earth like a snug prison jumpsuit), is only marketable to women insofar that it can sound an annoying alarm when they've had one too many pudding cups, or help them take illicit photographs of sweaty Groundskeeper Willies.
Samsung Puts Women in Their Place During Galaxy S IV Launch [Atlantic Wire]