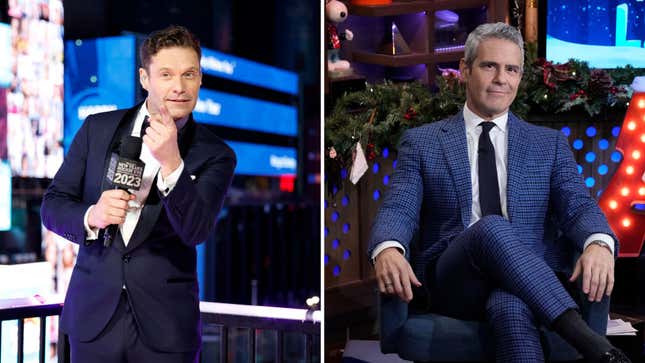 The drinks may have stopped flowing on CNN's New Year's Eve special, but the Housewife-level drama is still surging!
Raquel Leviss Told Us 'I'm Like, A Good Person' Just 48 Hours Before #Scandoval
On Live With Ryan and Kelly on Tuesday, Ryan Seacrest, the American Idol guy, told his co-host Kelly Ripa that Andy Cohen, the Housewives guy, allegedly ignored him on New Year's Eve, Page Six reported. Rude!
Seacrest hosts Dick Clark's New Year's Rockin' Eve with Ryan Seacrest on ABC, while Bravo Andy co-hosts CNN's New Year's Eve Live with zaddy journalist Anderson Cooper (Andy squared, if you will).

"It was funny because my big stage was right in front of Anderson and Andy…When I was not working, I was trying to get their attention," Seacrest told Ripa, showing how he waved to the popular girls. "I thought maybe I was in the shot. I just wanted to wave and say hi. They have a great show. And Anderson, the best, he turns around and he says, 'Have a good show.' Very nice. Andy did not turn around."

As far as on-air bitching goes, Seacrest's diss was relatively tame, although I am obsessed with the heavy lifting the phrase "the best" is doing. Hilariously, Ripa then turned on her co-host, refuting Seacrest's story and claiming that, in fact, Cohen was "trying to get your attention."

Now, I understand there's surely a ratings war between the two programs, and I also understand that the double shot of Cohen and Cooper is infinitely cooler than Seacrest. But this little holiday mess gets even messier considering that Cohen has talked shit on Seacrest in the past.

"If you look behind me, you'll see Ryan Seacrest's group of losers performing," Cohen said during the New Year's Eve show last year. "I'm sorry but if you're watching ABC, you're watching nothing."

Bravo Andy's comments went viral (obviously, because "group of losers" is the funniest elementary school level burn I've ever heard used by a grown man), and he later apologized.

"The only thing that I regret saying, the only thing is that I slammed the ABC broadcast, and I really like Ryan Seacrest," Cohen said later last year, claiming he was "just stupid and drunk" that night. (Unfortunately, the fun suckers at CNN wanted to prevent a similar outburst this year and banned its on-air talent from drinking this year.)
I'm siding with Ripa this time around: Seacrest's ego was probably still smarting from last year's baby brawl and so he missed (however intentionally) Andy's olive branch. Maybe one day they can put this all behind them and appear on Celebrity Big Brother with other washed-up TV hosts.
---