On Sunday at San Diego Comic Con, Ryan Murphy joined cast members from two of his highly anticipated TV shows, American Horror Story: Hotel and Scream Queens, to reveal what viewers could expect from the upcoming seasons.

For American Horror Story, the actors present for the panel included Angela Bassett, Evan Peters, Sarah Paulson, Kathy Bates and series newcomer Matt Bomer. "Everybody on this side of the table are bad boys and girls this time," Murphy said. Lady Gaga will also play a villain, as per her request. The singer, who is a fan of the show, approached Murphy for a role on its fifth season, reports Variety; Murphy also noted that Gaga will not be lending her vocal talents on the show, explaining that "She likes to do one thing at one time."
At the panel, Murphy confirmed what fans have been theorizing since early on—that all seasons of AHS are connected. "This season, you'll see more and more and more of that. Characters from previous seasons will come check into the hotel."
Cast members from Murphy's new series Scream Queens also joined him onstage, including Jamie Lee Curtis, Emma Roberts, Lea Michele, Skyler Samuels, Keke Palmer, Abigail Breslin and Billie Lourd. The actors are not aware of the identity of the show's killer; Murphy gave the audience clues, saying that the killer appears in the first episode. "If you go back and watch that episode at the end, I think it's very clear," he said.
This was the first year that Jamie Lee Curtis, who plays a college dean in the new show and is one of horror's most-loved leading ladies, attended Comic Con. "I've been selling yogurt that makes you shit for six years," she said. Via Entertainment Weekly, the actress also divulged a fun tidbit: the second episode of the show will pay homage to Halloween, the horror franchise in which she earned her "scream queen" title.
G/O Media may get a commission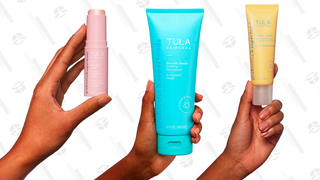 Scream Queens will debut this September, while American Horror Story will return in October.
---
Contact the author at marie.lodi@jezebel.com.

Image via Getty.