Hell jeah: Olympian and serial liar Ryan Lochte is getting married and he can't fucking wait. The friend of Billy Bush's started dating a model named Kayla Rae Reid this spring, and quickly decided she was the one he wanted to rise and fucking shine to for the rest of his life. I'm guessing she sealed the deal after staying all loyal and shit during that whole fake robbery mess.
Anyway, in an Instagram photo posted by Lochte on Sunday, the caption (presumably typed out by someone who knew how to work his phone's keyboard) reads, "Memories forever!!! #thelochtes #LA."
In Reid's Instagram post depicting the same moment, she wrote, "Speechless. Absolutely beautiful. So in love with YOU."
Love is the shit!!!!
---
In response to her horrifying robbery in Paris last week, it's being reported that Kim Kardashian has hired some new people for her security team with resumes that are...quite good!
G/O Media may get a commission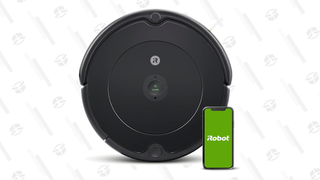 35% Off Black Friday Deal
iRobot Roomba 694 Robot Vacuum
Writes TMZ:
There will be at least one team of 2 hired muscles (minimum) everywhere she goes. We're also told her car will be "armored."

We're told after the Paris robbery Kim met with some ex-special force members from the Israeli army, ex-CIA agents as well as former Secret Service members. Kanye met with owners of 2 top security firms.
That sounds expensive.
[TMZ]
---
"Get me outta here." - the dog

---