Hot girl summer is canceled for RBG.
Here's all the shit we couldn't cover today:
Remember the other day when Ruth Bader Ginsburg sneered in the faces of those who predicted her death and that was kind of cool? Well here's something that sucks: at an event at Duke Law School, a professor lamented that, "nominees for the Supreme Court are not chosen primarily anymore for independence, legal ability, [and] personal decency" anymore. Ginsburg countered his characterization and said, "My two newest colleagues [Justice Neil Gorsuch and Brett Kavanaugh] are very decent, very smart individuals." Yeah, okay, sis. I bet Christine Blasey-Ford disagrees, but go off. [Business Insider]

In petty news: Bill de Blasio was not invited to Kirsten Gillibrand's September 11th Victims Fund press conference. [Politico]
Russians targeted election systems in every state. Cool. Great. [New York Times]
Trump says that Sweden has let the "African-American community down" by failing to release A$AP Rocky from a Swedish jail. He also tweeted that the United States does "so much" for Sweden. Naturally, he failed to elaborate! [CNN]
Here are some tweets the president was allowed to publish:
G/O Media may get a commission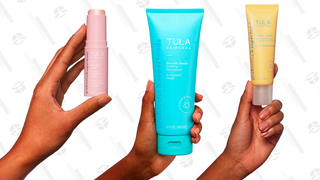 This has been Barf Bag.