Supreme Court Justice Ruth Bader Ginsburg does not fancy a Donald Trump presidency. In fact, in characteristic outspokenness, she recently remarked that she could not fathom what the United States would become were he elected.
"I can't imagine what this place would be—I can't imagine what the country would be—with Donald Trump as our president," Ginsburg told the New York Times. "For the country, it could be four years. For the court, it could be — I don't even want to contemplate that."
In an interview with the Associated Press, the 83-year-old justice said that she expects Hillary Clinton to be elected in November 2016. But if she were not? "I don't want to think about that possibility," she declares, "but if it should be, then everything is up for grabs."
Many admire Ginsburg's candor—her bracing intellect makes it especially thrilling—but others are aghast that, as a member of the Supreme Court, she speaks so freely about her political leanings.
"I find it baffling actually that she says these things," Arthur Hellman, law professor at the University of Pittsburgh, tells the Washington Post. "She must know she shouldn't be. However tempted she might be, she shouldn't be doing it."
G/O Media may get a commission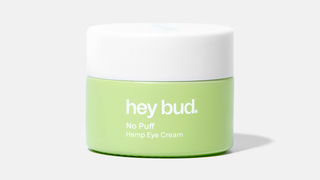 15% off
Hey Bud - No Puff Hemp Eye Cream
Edward Whelan III, president of the Ethics and Public Policy Center and, incidentally, a former clerk of the late Justice Scalia, has also previously disapproved of Ginsburg's comments. However, he regards her latest remarks about Trump as utterly beyond the pale. From the Post:
"'I think this exceeds the others in terms of her indiscretions,' Whelan said. 'I am not aware of any justice ever expressing views on the merits or demerits of a presidential candidate in the midst of the campaign. I am not a fan of Donald Trump's at all. But the soundness or unsoundness of her concerns about Donald Trump has no bearing on whether it was proper for her to say what she said.'"

The prevailing concern is that Ginsberg could not be viewed as impartial as someone in the position to strike down presidential policies. But then, it's not difficult to discern many of the justices' political inclinations. Like Ginsburg, Scalia was especially outspoken about his views. Justice Clarence Thomas is a known conservative, and his wife openly endorsed Senator Ted Cruz in the Republican presidential primary. Justice Elena Kagan has worked for both the Clinton and Obama administrations.
But Ginsburg is undeterred. And while she gives no inclination of stepping down from the Court anytime soon, she acknowledges—with a sly twist—that there may be vacancies before long. She is the oldest justice, but Anthony Kennedy and Stephen Breyer will both be 78 by the January 2017 inauguration.
"It's likely the next president, whoever she will be, will have a few appointments to make," Ginsberg tells AP with a smile.
Here's hoping that she's not alluding to herself. After all — a Supreme Court sans the Notorious RBG? Who could possibly fathom that?
---
Image via Getty.