Surprising no one at all on the entire earth, even baby oysters taking a nap, Russell Brand has lately been hinting that his dissatisfaction with monogamy is what broke up his marriage to Katy Perry. Woebetide wandering penises locked into vaginal monogamy!
According to the San Francisco Gate, Brand made jokes about his sex life with Perry during a gig at London's Soho Theatre on Wednesday, July 31.

"When I got divorced, I considered becoming a monk. When you're a monk, you're not allowed to have sex with anyone. When you're married, it's one person. That's one more than a monk," he allegedly joked. "It's not that different. I'd be having sex thinking, 'Think of anyone, anyone else.'"
There's nothing wrong with consensual non-monogamy, of course—it's just good to get those specifics ironed out before the billion-dollar pink-elephant-themed destination wedding. [Us]
---
Apparently some designers don't want brilliant mega-ingenue Chloe Moretz wearing their clothes.
"There are brands that say, 'We can't dress you until you're 20.' People who buy their clothes don't want to see a $50,000 dress on a 16-year-old."

It makes sense in theory–brands looking to reach a more mature clientele may not find it in their best interest to lend their gowns out to a teenager. But considering the fact that tall, waif-like 16-year-olds are generally regarded as the ideal candidates to showcase those gowns on the runway (girls under the age of 16 have only very recently been discouraged from walking), it seems a touch hypocritical. For reference, Karlie Kloss walked 31 shows in New York before she'd even turned 16. Wonder if any of those 31 designers are the ones who won't let Moretz wear his/her dresses, hmmm?
G/O Media may get a commission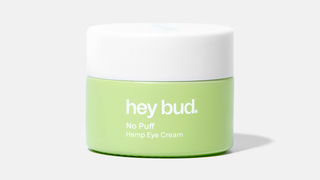 15% off
Hey Bud - No Puff Hemp Eye Cream
I don't know, man. Fashion is like aliens to me. [Fashionista]
---
Lindsay Lohan is apartment-hunting in SoHo, and plans to have her sober coach move in with her.
"The goal is to have her sober coach live with her full time," a source close to Lohan tells E! News, noting that she is taking her continued recovery "really seriously."

The sober coach, whom we've been told is "really fun" but "very strict," is based in L.A. and would have to move to New York, but Lohan wants him to live with her.

Lohan has been staying with pal and sometimes-roommate Patty Uribe in a lovely $8,000-a-month apartment in the city, but our source says that Lohan does not intend for her next living arrangement to include Uribe.

The two had been scheduled to travel to Europe together and were supposed to be leaving tonight, but E! News has confirmed that Lohan just pulled the plug on that plan.

"She doesn't think it is the right thing to do" so soon after rehab, what with all the temptations that a jaunt around Europe has to offer, says our insider. "She is being very smart about all this."
OH LILO I AM PROUD OF YOU, GIRL. [E!]
---
Alex Rodriguez "stepped out"! [JustJared]
Here are a bunch of picture of Justin Bieber with his shirt off. [HuffPo]
Here's Sharon Stone and Amanda Seyfried at the Lovelace premier. [E!]
Ryan Gosling and Josh Brolin might be in the running to be the next Batman. [Extra]
Sarah Jessica Parker doesn't even LIKE fashion that much, GAHD. [People]
Liam Hemsworth confirms that Jennifer Lawrence is the best. [E!]
Kaley Cuoco is dating some tennis man. [NYDN]
Britney wore this cray-cray outfit to church. [Us]
Here is Donnie Wahlberg's nipple. [Us]
Jennifer Lopez is getting $15 million to return to American Idol. [Radar]
Kanye West is going to perform at the VMAs. [Variety]
Here's Nina Dobrev on the cover of Cosmo. [OceanUp]
BYEBYE