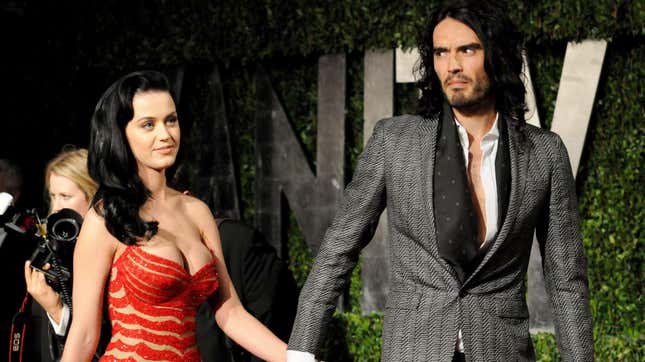 Stay away from her! Get a job! On a recent episode of Running Wild with Bear Grylls: The Challenge, the most magician looking ass comedian of all time, Russell Brand, called his former marriage to Katy Perry a "chaotic" time in his life.
"Aside from my sort of feelings of affection for Katy, it's a time that I remember as being a little bit chaotic and a bit for me, speaking for myself, a little disconnected," he said. I simply can't imagine a time in this man's life that wouldn't feel chaotic.
"That was when I was sort of most in the public eye and working in America...some aspects of [that time] were amazing," he continued. "She's an amazing person. It was kind of incredible to live for a moment in that eye-of-the-cyclone type aspect of fame."
I cannot legally claim to be a KatyCat (a fandom moniker that tragically has no zhuzh to it) but ever since watching and rewatching that horrific clip from Perry's documentary, Part of Me, where Brand asks for a divorce via text message, I will guard her house with a knife should he ever approach it.
For those unfamiliar, minutes before she goes on stage, Brand texts her that he wants a divorce after 14 months of marriage. In complete shock and dry heaving in her sequined candy striper costume, Perry manages to pull it together and plaster on a smile as her mechanical bra starts spinning and the show is about to begin. It's the only time in my life I've ever thought, "Popstars deserve a raise."
"Let's just say I haven't heard from him since he texted me saying he was divorcing me December 31, 2011," Perry told Vogue in 2013. She also disclosed that the power imbalance between the two of them contributed to their split.
"He didn't like the atmosphere of me being the boss on tour. So that was really hurtful, and it was very controlling, which was upsetting. I felt a lot of responsibility for it ending, but then I found out the real truth, which I can't necessarily disclose because I keep it locked in my safe for a rainy day."
Katy, I'll get out the umbrella. I'm ready for the "real truth."
These two exes have been mostly very cordial to one another following their split, but something just continually irks me about Brand always talking so fondly and sympathetically about their relationship when he left her in such a callous way. I wish he wouldn't bring it up at all.
---