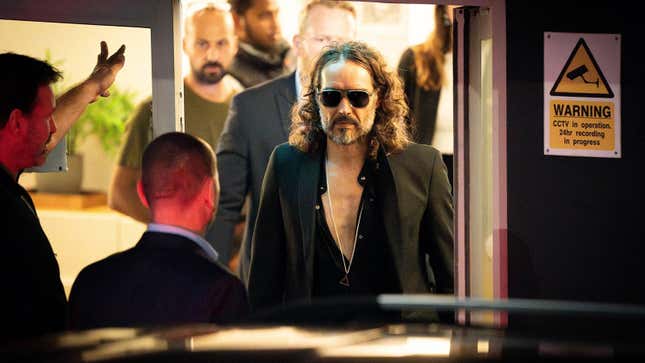 Pop culture bedlam broke out this weekend in the wake of a joint investigation by the U.K.'s The Times, The Sunday Times, and Channel 4's Dispatches into comedian/actor Russell Brand. In the Times piece and accompanying Dispatches doc, both published Saturday, four women accused Brand of sexual assault in a timeframe that spanned from 2006 to 2013. One accused Brand of raping her at her Los Angeles home (she provided evidence to the outlets that she'd visited a rape-treatment center), while another alleged Brand forced her to perform oral sex on him when she was 16. They also alleged emotional abuse. The investigation included texts to and from Brand, including one after an alleged rape in which he wrote: "I'm sorry. That was crazy and selfish. I hope you can forgive me, I know that you're a lovely person. X"
Brand denied the allegations in a wild-eyed video titled "So, This Is Happening" that he posted to his YouTube account on Friday.
"Amidst this litany of astonishing, rather baroque attacks are some very serious allegations that I absolutely refute," Brand said in the clip. "These allegations pertain to the time when I was working in the mainstream, when I was in the newspapers all the time, when I was in the movies. As I've written about extensively in my books, I was very, very promiscuous. Now, during that time of promiscuity, the relationships that I had were absolutely, always consensual."
The fallout from the allegations was swift. The publisher of Brand's books since 2017, Bluebird, announced its intention to "pause all future publishing with Russell Brand" and Tavistock Wood, the literary and talent agency, "terminated all professional ties" with the personality. Bluebird had planned to publish his Recovery: The Workbook in December.
The BBC, where Brand worked as a radio presenter from 2006 to 2008, and Channel 4, on whose sister station E4 Brand hosted Big Brother's Big Mouth, announced that they were performing their own investigations in light of the report. MPs on Monday said the police should investigate the allegations. The U.K.'s Metropolitan Police released a statement that read:
We are aware of media reporting of a series of allegations of sexual assault. At this time, we have not received any reports in relation to this.

If anyone believes they have been the victim of a sexual assault, no matter how long ago it happened, we would encourage them to contact police.

We spoke with The Sunday Times on Saturday 16 September. We will be making further approaches to The Sunday Times and Channel 4 to ensure that any victims of crime who they have spoken with are aware of how they may report any criminal allegations to police.
A spokesman for U.K. Prime Minister Rishi Sunak weighed in, calling the allegations "serious and concerning," and encouraging people to go to the police with information. "The Prime Minister has been clear there should never be any space for harassment, regardless of where it is found," he added.
The Times said that more women had come forward with allegations against Brand as a result of its initial report and that said allegations "will now be rigorously checked."
Brand, meanwhile, played a gig on Saturday night where he addressed the rape allegations by not addressing them. According to a BBC report from the show, Brand asked the crowd not to film and said: "I really appreciate your support, I love you, I want to do a fantastic show for you. I've got a lot of things to talk to you about. There are obviously some things that I absolutely cannot talk about and I appreciate that you will understand." After some laughter, he continued: "I love you lot already. I'm going to give you everything I've got, let's go." The BBC reported that in the crowd, a woman held a piece of paper that read, "We stand by you." Deadline also reported that Brand received a standing ovation.
Others who have stood by Brand include professional liar Tucker Carlson, accused rapist/sex trafficker Andrew Tate, and Elon Musk:
That's a real motley crew whose support will undoubtedly be damning in and of itself to many.
---