I woke up this morning to a very enlightening article in my inbox about how Katy Perry and Rihanna continued their "alleged gay affair" at the VMAs. They did? Guys, how could we have missed it? They were so obvious. For instance, they clapped for each other with the back of their hands on the other's thigh whenever she was up for an award. The article refers to this as "crotch games." I refer to it as "Can't women just be affectionate friends and also if they're gay who cares and if they're not who cares who cares WHO CARES I WANT ICE CREAM?"
Here are some other softcore highlights:
Katy began their touchy-feely night
Rihanna put one hand on Katy's butt like a lover
she mentioned like a proud lover: "Look at how hot my girl Rihanna is."
they walked with their arms entwined like lesbian lovers
put her right arm around Rihanna's butt and then gently slapped it
Yum, yum, gimme sum. No, but what in the actual fuck is a crotch game? [Truthquake]
---
G/O Media may get a commission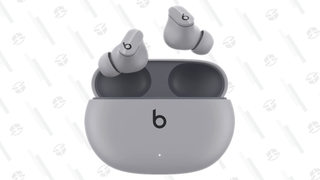 To everyone's surprise, Lindsay Lohan is being erratic and temperamental on the set of Scary Movie 5: she's gone M.I.A., missed flights and claimed to have "walking pneumonia" in order to evade filming her cameo. The script makes fun of her recent troubles, and she reportedly "freaked out" about the content until a Hollywood lawyer threatened her and a private jet was sent to take her to the set. Important life lesson, can be taken literally or metaphorically: Always read the script before you sign the papers.
See, if Tina Fey had ribbed her on Saturday Night Live instead of playing favorites because of Mean Girls, Li-Lo would have a thicker skin by now. [Page Six]
---
"ARE YOU PREGNANT???" screamed everyone after Kate Middleton made a toast with water and was not a one-dimensional paper doll had a "baby bump." [NYDN]
---
When Stacy Keibler attended New York Fashion Week alone—and when asked whether her boyfriend would be attending, her response was "I don't know, ask him"—there was some speculation as to whether she and George Smirkface Silverfox Clooney had broken up.
The Sun wrote a story to that effect ("She said George wants to be on his own again and has no intention of getting married"), but both parties' reps are saying that's a bullshit rumor to sell tabloids and they're still together and very happy and he only didn't come with her to NYFW because he gives zero shits about clothes. [Page Six, The Sun, E! Online]
---
Annnd the first photo of Bill and Giuliana Rancic's new baby, Edward. [Life & Style]
---
Pete Doherty, the frontman of English band Babyshambles, is better known for his former longtime on-and-off relationship with Kate Moss and a positively Winehousian level of drug addiction. He regrets having told NME about his brief affair with Lars von Trier's muse Charlotte Gainsbourg, who left her longtime partner to be with him but left after four days because she couldn't deal with his lifestyle. Doherty says regretfully: "I'd drunk too much rum and taken too much coke that day... I wish I'd never said it. Charlotte won't speak to me now."
Want to see a disturbing, heartbreaking video of crack-addled Doherty and Amy Winehouse playing with newborn mice in a flophouse? Thought so. [Express]
---