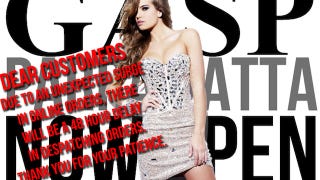 Aussie retailer GASP made headlines this week with its insanely rude response to a customer complaint. Now another dissatisfied customer shares her story.
Apparently a salesperson told the new complainant, "Look at what you're wearing. Let me find you something to wear so that you can dress good for once in your life!" And when she declined to buy anything (we can't imagine why), he called her a "fat bitch." This star employee turns out to be the same one who caused the initial email flap by implying that customer Keara O'Neil was fat and dowdy. And the chain remains unrepentant — says manager Matthew Chidgey, "Our shops are packed, everyone knows us now and I can't thank [O'Neil] enough for what she did for us." And in an email to the Herald Sun, Chidgey added,
To all the rude and obnoxious clowns, we respectfully ask that you get out and stay out, we don't want you or your business. We ask that (you) share your misconceived and unfounded remarks amongst yourselves. Have a nice day and good luck.
More Gasps As Shop Service Spat Spreads [The Age]
Gasp Clothing's Email Scandal Unveils Infamous Customer Service [IBTimes]