Now that the royals' Canadian sojourn has concluded, let's assess the looks. Forget Kate, though—we turn our eyes to the young, the fresh, the future of the monarchy, the trendsetters Charlotte and George. Join me for a little fashion Kremlinology!
One theory for why these two perpetually look like extra from a Frances Hodgson Burnett adaptation, via the Daily Beast: It's a way of preserving what little privacy is possible for the littlest heirs to the throne—ensuring that the public is so accustomed to seeing them as characters from Time for Andrew that they're unrecognizable in everyday casual wear. Others suggest these two dress like their grandparents and indeed great grandparents as a sort of brand maintenance for the family firm, a means of establishing their tie to a long and proud lineage, the under-five equivalent of the regalia Queen Elizabeth II wears while opening Parliament.
Or perhaps these two are plotting from the nursery to shore up their dynastic power—while also relishing the prerogatives of their office and aesthetically stunting on the world's more lackadaisically dressed children.
Consider their looks upon landing in Canada.
George in particular is sporting a power look. That would mean a suit for a grown man, but on a child a suit looks absurd and whimsical—hardly the proper way to instill respect among one's future subjects, especially when you're expected to hold your parents' hands while descending an airport staircase. No, a crisp button-down under a sharp little sweater is preferable. Pair it with some shorts and knee socks so that Justin Trudeau underestimates who he's dealing with and goes in for a high five. Consider that upstart put in his place. Don't worry about taking notes; Prince George will eventually share all this in a hotly anticipated sequel to Machiavelli's pioneering work.
G/O Media may get a commission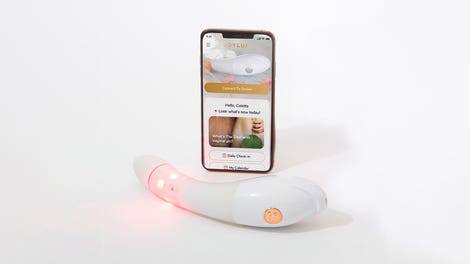 $50 Off
Joylux vFit Gold Device
Charlotte's stand-out smocking look serves a related purpose. First of all, she looks fabulous. Second, note what she's done here, topping a perfectly adorable little smocked dress with a darling blue hair bow. The explicit message of this ensemble is: I'm incredibly cute and I know it. However, read between the lines. While George must balance encouraging his enemies to underestimate him with a certain aura of command, Charlotte can fully commit to a look that will guarantee she is underestimated by courtiers who think they can manipulate her into undermining her brother. This positions her to serve as a masterful information gatherer.
Note that they are coordinated—these two are a team and you will get nowhere by attempting to play the spare against the heir.
They would follow this pattern in the following two days. George arrived for that Government House garden party dressed, essentially, like a tiny hedge fund manager. Translation: "I'm so powerful that I can pull off this casual-but-very-expensive sweater and I dare you to mock my shorts and knee socks. Seriously, try me."
Meanwhile, Charlotte bumbled about, exhibiting a modern twist on the classic Cold War-era spycraft trick of faking falling-down drunkenness as a trap for the unsuspecting agent following you. Literal child's play!
Do not be fooled by the knee socks and cute little sweaters, the smocking and Mary Janes. You wouldn't want to turn your back on these two.