Leigh Corfman, the woman who accused failed Senate candidate Roy Moore of sexually assaulting her in 1979 when she was 14-years-old, has filed a defamation lawsuit against Moore and his campaign.

The Washington Post reports that Corfman filed suit on Thursday. She is not asking for monetary compensation, beyond legal costs, but instead is seeking a public apology from Moore. In addition to the apology, Corfman is also asking for a "declaratory judgment of defamation" and a court-enforced ban on Moore and his campaign from publicly attacking her in the future.
According to AL.com, Corfman's suit argues that Moore and his campaign, "have defamed Ms. Corfman, repeatedly and in all forms of media, calling her a liar and questioning her motivation for publicly disclosing that Mr. Moore sexually abused her in 1979 when she was a 14-year-old high school freshman and he was a 32-year-old assistant district attorney." The lawsuit lists numerous instances that, Corfman alleges, Moore lied about her, including his insistence that he had never met her and that her allegations were "politically motivated."
In a statement, Corfman said that the decision to sue Moore and his campaign was "difficult, but they need to be held responsible for their actions." Corfman reiterated Moore's persistent attacks on her and her character since the Post initially reported her allegations in early November, undoubtedly changing the course of the Senate race, won by Democrat Doug Jones. "By this lawsuit, I seek to do what I could not do as a 14-year-old—hold Mr. Moore and those who enable him accountable," Corfman said.
Corfman was one of numerous women who accused Moore of sexual assault and misconduct. Moore repeatedly denied the allegations, insisting that the women were lying and repeatedly framing himself as a victim of a range of conspiratorial forces. In a voter fraud complaint filed after his loss to Jones, Moore again insisted that the allegations against him were "completely false," insinuating that they were created by both the Democratic Senate Majority PAC and the Republican Leadership Fund.
G/O Media may get a commission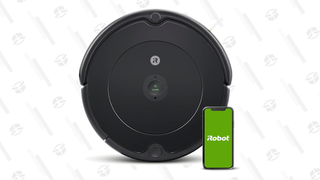 35% Off Black Friday Deal
iRobot Roomba 694 Robot Vacuum
A representative for Moore told the Post, "We look forward to transparently discussing these matters in a court of law."