Roxana Saberi met with Secretary of State Hillary Clinton yesterday to thank her for pushing for her release from Iran's Evin prison. The state-run news network in Iran has pointed out that Saberi still hasn't thanked Iranian officials for freeing her.
A week after Saberi returned to the U.S. following her 100-day imprisonment, she and her parents met with Clinton at the State Department. At a conference in the Netherlands in March, Clinton broke with the usual diplomatic isolation of Iran and passed a letter supporting Saberi's release directly to the country's delegation.
Yesterday, Clinton told reporters:
This was a matter of great concern to our country, certainly to the Obama administration, to me personally, not only as secretary of state, but as a mother. My heart went out to Roxana and to her parents every single day.
Saberi thanked Clinton, President Obama, and the American people and others around the world for lobbying for her freedom. She said:
When I found out that I had the support while I was in prison, I gained a lot of strength and hope, and I didn't feel so alone anymore. It's wonderful to be back in the United States. I'm very proud to be an American, just as I'm proud of my Japanese and Iranian heritage. It's wonderful to be back.
G/O Media may get a commission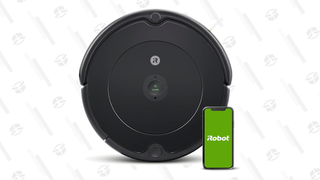 35% Off Black Friday Deal
iRobot Roomba 694 Robot Vacuum
The 32-year-old journalist had been living in Iran since 2003, but was convicted of spying for the U.S. and sentenced to eight years in prison following her arrest in January. Earlier this month, an Iranian appeals court reduced her sentence to a two-year jail term suspended for five years on grounds that she couldn't be punished for cooperating with a hostile nation since the U.S. and Iran are not at war, according to The New York Times.
In the Press TV account of Saberi and Clinton's meeting, the state-run news agency noted that Iranian President Mahmoud Ahmadinejad also wrote a letter to judiciary officials asking for a fair trial. The articles stated that Saberi "had confessed that she had been engaged in acts of espionage by gaining access to classified documents," but still hasn't thanked the Iranian officials who released her.
Clinton Celebrates Journalist's Release From Iran [CNN]
Saberi Thanks Clinton For Support [The New York Times]
Saberi Thanks Clinton For Pressuring Iran [Press TV]