December 1 marks the 60th anniversary of Rosa Parks' radical move of refusing to move from her seat on an Alabama bus, inciting the 13-month Montgomery bus boycott led by Martin Luther King Jr. Parks is often characterized in history books as a quiet "old" seamstress, but she was an activist long before she was arrested for breaking Jim Crow laws in 1955—and she wasn't old.

In her autobiography, Parks clarified that she wasn't just some physically exhausted elderly lady, too worn out to move from her seat in the black section of the bus. Neither did she plan to resist the driver that fateful day, though she was aware of the NAACP's need for a press friendly face to lead their impending boycott. She actually hated James Blake, the driver of the bus where she was arrested, because he'd "ejected" her from another bus in 1943 for refusing to use the back door, the negro entrance.
She was just 42 years old in 1955 and "tired of giving in," according to History.com. But she still would've avoided Blake had she realized he was driving.
"If I had been paying attention," she wrote, "I wouldn't even have gotten on that bus," she wrote in her autobiography.
Also, Parks wasn't the first woman to refuse a bus driver's order to move. Earlier in 1955, 15-year-old Claudette Colvin became the first Montgomery rider to say "Hell no" and be arrested for breaking segregationist laws.
Parks aided in raising Colvin's defense fund, which became a trend for her. However, since Colvin was dark skinned and later became a single mother following an affair with a married man, the optics weren't as press friendly for her to be the face of the Montgomery bus boycott.
"She fit the profile. Parks had the right hair and the right look. Her skin texture was the kind that people associate with the middle class," Colvin told NPR in 2009.
G/O Media may get a commission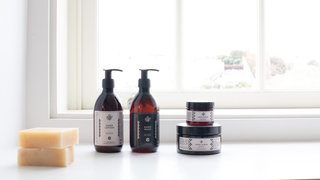 Exfoliate and Hydrate
The Handmade Soap Company
In addition to being arrested on December 1, Parks was also taken in for organizing carpool rides for fellow boycotters—boycotting was against Alabama state law. Her trip to the local precinct made the front page of the New York Times with the iconic image of her having her fingerprints taken, but Parks was well-versed in civil disobedience.
In her childhood, Parks' family were supporters of black nationalist Marcus Garvey and as an adult, she married an activist for the Scottsboro boys, a group of black men falsely accused of raping two white women and not given fair trials in 1931. In 1943 she joined the NAACP, where she later became the organization's secretary. Jeanne Theoharis, author of The Rebellious Life of Mrs. Rosa Parks, culled a bit from Parks' personal papers currently on display at the Library of Congress for The Washington Post:
As she once wrote, "I talked and talked of everything I know about the white man's inhuman treatment of the negro."
As an organizer, she pushed for "voter registration, seeking justice for black victims of white brutality and sexual violence, supporting wrongfully accused black men, and pressing for desegregation of schools and public spaces." Malcolm X was one of her heroes.
In her personal papers, she also wrote that as a black woman in America, she often felt torn between her activism for equality and the unrelenting pressure for blacks to be subservient in the face of white violence and patriarchy. Even as a child, her grandmother worried about her "talking biggety to white folks" to which Rosa replied "I would rather be lynched than live to be mistreated and not be allowed to say 'I don't like it.'"
As a teen in 1931, Parks remained outspoken. One story in her papers at the Library of Congress describes an attempted sexual assault by a white man in a home where she did domestic work with another black man named Sam.
The heavy-set white man she aptly called "Mr. Charlie" (a term black people of the era used for white people and their arbitrary power) gets a drink, puts his hand on her waist, and attempts to make a move on her.

Furious and terrified, she resolved to resist: "I was ready and willing to die, but give any consent, never, never, never." When Mr. Charlie said he'd gotten permission from Sam to be with her, she replied that Sam didn't own her, that she hated the both of them, and that nothing Mr. Charlie could do would get her consent. "If he wanted to kill me and rape a dead body," Parks wrote, "he was welcome but he would have to kill me first."
This account dovetails with Parks' work fighting for sexual justice and the rights of female prisoners like Joan Little. In 1974, 20-year-old Little was serving a seven-year sentence for theft when she murdered a white guard who sexually assaulted her. Parks co-founded Little's Detroit-based Defense Committee. Eventually Little became the first woman in American history to win her freedom by using self-defense against sexual assault in a homicide case.
Despite all of her other work, Parks remains best known for the Montgomery bus boycott. Once the Supreme Court ruled racial segregation was unconstitutional in 1956, Parks remained under siege. She continued to receive threatening phone calls and was let go from her job as a seamstress at a local Montgomery department store. Her husband quit his job because discussion of the boycott or Rosa was banned at work. The pair eventually relocated to Detroit to be near Parks' family. There Rosa worked as an administrative aide for Congressman John Conyers Jr. and continued her work, speaking out against Supreme Court Justice Clarence Thomas's nomination, citing his crappy record on civil rights and protesting the South African apartheid.
Parks died in 2005 and it would be a great service to her legacy if more of us celebrated her for more than just one day in 1955.
---
Contact the author at Hillary@jezebel.com.
Images via AP.