At the very beginning of 2023, indie romance author Susan Meachen—thought to have been dead for two years—announced on Facebook that she was alive and was ready to "let the fun begin." A shockwave quickly rippled through the very-online community of self-published romance authors, who had mourned and grappled over Meachen's suicide in 2020.

As those waves settled, a confused community (and the general public) waited for answers. Finally, on Tuesday, after 15 days of suspense, the New York Times published an interview with Meachen's husband, providing some long-awaited context. This real interview followed what is now believed to be a false, though widely shared, interview with someone impersonating Meachen on the Upstream Reviews Substack. The deception in this whole ordeal is a dense thicket to navigate.
"I told them that she is dead to the indie world, the internet, because we had to stop her, period," Troy Meachen told the Times, adding that the feedback Meachen had received for her writing in these spaces was "really brutal." He explained that his wife's "addiction" (her words) to the online romance community and her inability to extricate herself from it led to a suicide attempt in September 2020. Meachen's psychiatrist confirmed to the Times that she is diagnosed bipolar, and Troy believed that this online environment triggered the effects of that diagnosis. "She could not stop it on her own. And, even to this day, I'll take 100 percent of the blame."
"Romancelandia," as the indie romance community is sometimes referred to, certainly sucks people in—not only for the irresistible plot lines in the sprawling pages of people's manuscripts, but also for the real drama that plays out between authors. Following Susan's resurrection announcement, Samantha A. Cole, a romance writer who considered Meachen a peer, spoke to Jezebel about her confusion over the incident and gave background about their shared community. (Cole goes by a pen name to keep her writing persona separate from her real-life one.)
G/O Media may get a commission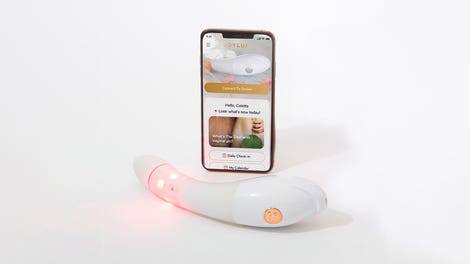 $50 Off
Joylux vFit Gold Device
After Susan's daughter posted that her mother had died by suicide due to bullying in "Romancelandia," Cole was targeted by people accusing her of pushing Meachen over the edge. In her words, she was "harassed by this one particular bully who loves to stir up drama. He's "tried to get me kicked off of Facebook," she said, "and he's tried to discredit me before."
"He hates the fact that he hasn't been successful, so he jumped on the bandwagon," Cole explained. This sentiment was also touched upon in the Times piece. Sarah Wendell, co-founder of the romance blog Smart Bitches, Trashy Books, called the community "epicenters of nonstop drama" fueled by this promise of making it big.
On the flip side of these intense interactions are really close and wonderful relationships. "I have friends around the world. I talk with a girl that's in Italy every other day pretty much," Cole told Jezebel. "I have friends down in Australia. I have friends in the UK, some of whom I've met, some I haven't." Authors with substantial followings will often have reader groups made up of their fans, and will share early drafts of their work with them. "We celebrate their successes just like they celebrate ours. And we commiserate with their losses and even though I have not met a lot of these people in person, they are close to me."
As of right now, it isn't entirely clear if Meachen will face legal repercussions. It was suspected that she'd profited off of her death through GoFundMes, but she's adamant that she did not. "From a legal standpoint, I did nothing wrong," Meachen told the Times. "Morally, I might have done something wrong. But legally, there's nothing wrong."
Disregarding that claim, fellow author Sai Marie Johnson, who had edited Meachen's final book for free after learning she had "died," has filed a report with the FBI's cybercrimes unit.
If Meachen was hoping to get back into writing, her prospects look dim. Apparently, her reader's group is inactive, and her peers have been vocal in their disapproval of what she's done. Perhaps her husband's elaborate scheme to disentangle her from Romancelandia worked after all.
If you or anyone you know is thinking about suicide, you can call 988 at any time of the day or night to speak with trained counselors.