In an interview with BBC1, Robin Thicke finally responded to charges of misogyny in the lyrics and video for his song "Blurred Lines." Many critics felt that the song trivializes the importance of consent (consent being the "line" that gets "blurred," because Thicke "know[s] you want it"), and objected to the fact that the video is just a bunch of naked ladies squirming around in the worst shoes while a fully-clothed Thicke and Pharrell and T.I. stand there all super-jazzed and high-fivey, like, "You and I have witnessed many things, but nothing as bodacious as what just happened." There is sometimes a goat. Anyways, Robin Thicke is super mad that you're mad about it. "I can't even dignify that with a response, that's ridiculous," he said.
"I don't want to be sleazy, I'm a gentleman, I've been in love with the same woman since I've been a teenager. I don't want to do anything inappropriate."

Thicke says that his wife, actress Paula Patton, actually pushed him to release the NSFW version of the video that was pulled from and re-added to YouTube. "My initial response was I love the clothed version, I don't think we should put out the naked version," he said. "And then I showed it to my wife and all of her girlfriends and they said, 'You have to put this out, this is so sexy and so cool.'"

"For me it's about blurring the lines between men and women and how much we're the same," he said. "And the other side which is the blurred lines between a good girl and a bad girl, and even very good girls all have little bad sides to them."
As a refresher, here's how Thicke spoke to GQ about the song back before he knew he was going to get in trouble:
People say, "Hey, do you think this is degrading to women?" I'm like, "Of course it is. What a pleasure it is to degrade a woman. I've never gotten to do that before. I've always respected women."
'Kay, bro. In other news, "Blurred Lines" is a fucking good song. Ahhh, the pains of loving pop culture while female. [HuffPo]
---
G/O Media may get a commission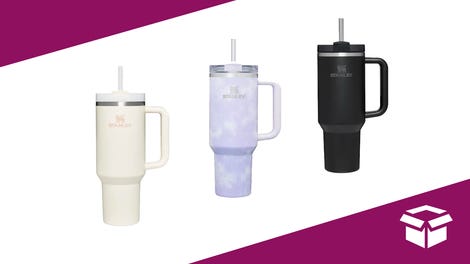 Up to 45% off
Stanley Cup Sale
Kanye West is super-duper heartbroken about his video getting leaked.
"The BLKKK SKKKN HD video that leaked yesterday was not the official version," West tweeted today.

"Me and Nick Knight have been working on this video for 5 months and for creatives it's heartbreaking when something like this happens," he continued.

"The final version will be ready within the next week...So any website that may have the unapproved / unfinished ruff. I ask you to please take it down...Allow me and Nick to give the world what we've been losing sleep over."

..."And to who ever leaked the video… F—K YOU!"
Leaks are so boring to me. Why can't anyone wait for the finished anything? Do I sound like a grandma right now? Eh, whatever. [E!]
---
Elisabeth Hasselbeck is moving to Fox News because the great elephant spirit calls her home.
Hasselbeck will make her first appearance as co-host with Steve Doocy and Brian Kilmeade on FNC's top rated morning show in September. "Elisabeth's warm and engaging personality made her a star on The View. She has proven to be an excellent conversationalist and I am certain she will make a great addition to our already successful morning franchise," said FNC chief Roger Ailes in a statement today.
I WISH SHE WOULD GO JOIN A NEWS NETWORK RUN BY ACTUAL FOXES BECAUSE I'M PRETTY SURE I DON'T GET THAT CHANNEL. [Deadline]
---
Nick Cannon wants Eminem to be a guest on Wild 'N Out, which he's bringing back, because sure. [MTV]

Something about Jenelle Evans being in trouble. [Radar]

If you want to go "inside" Kate Middleton, here is an article. [Us]

Prince William is planning to play polo this weekend, unless that baby happens. Just spent five minutes trying to figure out a way to refer to the royal baby as "the steaming divot"; failed. [People]

If you care about stuff that squirts out of Jonas Brothers, this is happening. [ContactMusic]

Here are a bunch of words I don't understand:


Crazed "Baseball Wife" Anna Benson dressed like a ninja and armed herself with a gun, ammo and bullet-proof vvest to break into the home of estranged hubby and ex-Mets pitcher Kris Benson, demanding dough and calling him a "p—-y,'' a police report shows.

'KAY. [NYPost]

Snooki wrote a letter to Kate Middleton, explaining what a baby is. WORTH READING. [E!]

Brandi Glanville got drunk and her nipples came out and her thong showed and she tried to make out with her agent. Cool. Hey, can somebody explain to me how her outfit worked before it "slipped" and revealed her thong? Because it literally looks like an invisibility cloak for a house elf. [Us]

Meredith Vieira is getting her own daytime talk show on NBC, which makes sense, since she is literally a daytime NBC talk show that was transfigured into a person. [HuffPo]

Rumer Willis is going to be on Pretty Little Liars. [ET]

The new Project Runway ad is just a pile of naked models. [Variety]

The creators of "Shit Girls Say" got a development deal. [Deadline]

Speaking of the pains of being a discerning woman who consumes pop culture, WHY DOES KANYE'S WORKOUT PLAN HAVE TO BE SUCH A FUCKING GREAT WORKOUT SONG??? It is counter to my entire being but I love it. Siiiiiiiiiigggghghhghghgh.

Images via Getty.