Before she fell into the house scene in the '90s, Robin Stone was a regular clubgoer and consumer of house records. Then a 32-year-old R&B singer living in New York, she couldn't see herself actually singing a dance song. Despite being intimidated by the music's signature 4/4, mechanic bass and drums, though, passing up a track like "Show Me Love," which now defines an era, wasn't an option.
Now, with the recent '90s deep house revival, "Show Me Love" has been excavated and reimagined on a bigger scale. The xx covered the song in concert, and Clean Bandit both performed it and recorded a studio version. It's also sampled in Kid Ink's "Show Me" (featuring Chris Brown) and Jason Derulo's "Don't Wanna Go Home." Given the latest surge in house appreciation, I sent Robin S. a few songs from the biggest participants, including Disclosure's "Latch," Mary J. Blige's "Nobody But You" and xx's cover. We chatted about them, as well as Stone's industry experience, the sisterhood among house divas and the remix with Blige that Robin S. wants to happen.
There's been a renewed interest in dance music, with the EDM explosion and the '90s deep house revival. As an insider who's now reliving that era, hearing it reinterpreted for today, does it make you nostalgic, proud, irritated?
It doesn't make me irritated, I can say that. It does not. I like it because it gives validity to what we've all been doing, making a living, you know. A lot of us have been making a living for over 15, 20 years on what we do. Seasoned R&B artists, they're no rookie to house music 'cause they used to go out and party on it. They know. What was making money when we came out was R&B, and no one wanted to validate house artists as legitimate singers. We would do our underground thing. We're not a very broad community. We're very close-knit and we all know each other. The producers who never wanted to do house tracks are now wanting to do house tracks. We really didn't need anyone to validate us, otherwise we would stop doing what we were doing. But for the sake of national and international and I guess the quote-unquote awards, it validates us publicly as bonafide music. It's the happy music, the music that makes you feel good.
Yeah, your biggest song "Show Me Love" was special because your voice was the centerpiece, whereas some other house music is more about the drums and the bass. When you recorded it, were you focused on giving that song emotion?
G/O Media may get a commission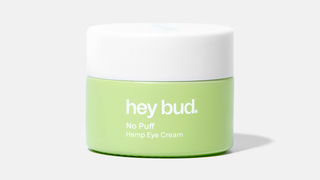 15% off
Hey Bud - No Puff Hemp Eye Cream
[Laughs] You hear all of that emotion because I was struggling. I had the flu when I recorded it. That's what you hear, frustration. I wasn't at 100 percent vocally, but I said even if I'm hoarse I gotta do it.
The song is about demanding a man to put his actions first. You didn't write it, but was there a personal connection to the lyrics that helped you sell it?
If I'm given a song to sing, I have to pick that song apart and figure out where it fits in my life. Otherwise, it's meaningless and it's empty. If it's a song that I write, it's my life. I did throw some pieces in it there that were mine that I didn't get credit for [writing], but that's neither here nor there. The hook was already written. That very first note that everybody looks for, that's all me. The ad libs in there, those are mine. But experience is a very, very tough lesson sometimes and I've learned my lesson.
Did you learn about house music on your own or from working with the DJs and producers? How did you get into it?
I fell into it. I was singing with an R&B band. I've been singing since I was 5, singing with a band since I was 15 in New York. And we did all kinds of covers, so my source of singing and my inspiration in learning was Phyllis Hyman, Anita Baker, Aretha Franklin, Vesta Williams—these are all R&B singers. So the closest that I got to a dance song in doing covers was Michael Jackson's "Don't Stop 'Til You Get Enough" and Donna Summer. When the producers of the song ["Show Me Love"] came to hear me sing with the band, they were like, "We have this song that we want you to try." A mutual friend introduced me to them. Of course, I'm not thinking that it's a dance song, a house song. I'm thinking it's a nice R&B song, kind of smooth, because that's what they saw me sing.
When they played the song for me, I was like, "I don't know how to sing this." I was like, "I don't sing house music. I sing jazz, I sing R&B, and I sing merengue. I don't know how to handle this on my own." They were like, "Just try it." Let me tell you how sick my girls were of listening to this song. By the time it finally came out, they were like, "Oh my god not again." 'Cause I had to keep practicing it over and over. I sat down and said, "Okay, you're either gonna make this song or you're just not gonna do it."
What did you find difficult about nailing it?
The fast pace of it. I wasn't used to doing fast-paced music. Loved to dance to a diva; loved all of the other house music. But me singing it, I just never envisioned that. There were other plans made for me, so I just went with the flow and here I am, twenty some-odd years later.
How deep were you in the house scene as far as going out to clubs and special nights?
I used to go to the clubs when I was younger and wasn't in the industry scene. I would go out to clubs and, I tell you, I loved a diva. I loved a lot of Gloria Gaynor. I loved a lot of the house music, but if somebody would've told me years ago that this is the path you're gonna go down, I would've probably said, "I don't think so." Now you have EDM and you have deep house soul. I like deep house soul because it still gives me that heavy bass and that heavy R&B and that gutsy singing. I'm not too much of a big fan of EDM because there are no lyrics. There's no substance. I can't speak for everyone else. A lot of people just like to hear the music and that's that. They don't want to hear any singing. Then there are people like me. I need to hear the vocals. I need to hear some singing. I need to know that there are some lyrics attached so that I can attach myself to it.
What was it like performing for the underground house scene?
When I first came out, when they started shopping "Show Me Love," just getting the buzz out, a lot of the clubs were underground. They weren't like the Silver Shadows, which was the R&B [club]. It was the Studio 54, it was Palladium, and it was late, late night, early, early morning and you just had to pay your dues. R&B had the chitlin circuit and we had ours.
Did you travel to other cities like Chicago where it was prevalent and witness the scenes there in comparison to New York?
Oh yes, girl. I was all over. House is house. When they say, "Welcome to my house," they mean it. The Shelter, Paradise in New York, you're gonna find house lovers, people that you are in corporate with, you know. You can be in the corporate world and the person is very strict and rigid. And you go to a serious house party and you see them there and you will see what house is all about. It's just letting loose and being free. I'm a people person. So when "Show Me Love" was hot and furious, I used to go out into the audience and I used to drive the security guards crazy. They would be running around.
After "Show Me Love," did you make friends with other female house musicians?
Oh yeah, and we're still friends. Crystal Waters, CeCe Peniston, Thea Austin, Janice Robinson, Jeanie Tracy, just to name a few. Barbara Tucker. The real seasoned ones. We still communicate with each other. I came after everybody else. Barbara Tucker had been out there for quite a while and she's still as good as she was when she first came out. And then how it came out was, Crystal came out with "100 Percent" and "Gypsy Woman" and then CeCe came out with "Finally" and then I followed CeCe. Janice Robinson had come out in between that with "Dreamer." The best thing that I think that has happened to me is that I've gotten the opportunity to meet some wonderful women in music and dedicated to their craft and just very talented.
Did you come across any barriers similar to Martha Wash with C + C Music Factory? She talked about being shafted because of her weight.
Our full-figuredness? Oh yeah, I was told the same thing, that I needed to lose weight and I was too heavy. And I've always been a fit girl. I'm never gonna be a size 2. That's just not realistic for me. But I was told at that point that you have to lose weight. No different from Jennifer Holliday or anyone else who was full-figured and it wasn't quote-unquote "the thing" back then. Them wanting to put someone else on the cover, no, I never experienced that part of it, so I can't identify with that. But there was the actual conversation of me getting a trainer and me losing weight. My thing was, I understand where you're coming from, but it's not my body that's producing this sound. It's my voice, my vocal chords. And my face—I'm not really hard to look at and I carry myself well and I dress to the tee when I have to perform.
I felt like with three children, I don't need to be anybody's sex symbol or book it because there's more to me than my body. And if you can close your eyes and listen to me and want to open your eyes to see me, then I've done something very positive. You know, record labels didn't really care about that, but they don't know the amount of women that have come to me, even to this day, being full-figured, saying, "You saved my life back then. I always thought i wasn't good enough for anyone or I was too heavy but then you came out and you just stood very firm." And I believe in that. I believe in being who I am and if I can love you for who you are, please reciprocate.
Part of what made me want to speak to you was Mary J. Blige's venture into house music. What I love is that her version has soul behind it. What are your thoughts on her new material on The London Sessions?
Well, when I listened to "My Loving," it made me want to dance. And I'm glad that she's making a comeback with dance music. There's no shade at all. In realizing that house music is coming back, people are tired of being depressed. They want to dance, they want to feel good. I'm happy for her. When it's your season, that's exactly what it is, your season. The only thing that I would like is to be on the remix version of that song.
That'd be amazing. I've seen comparisons to "Show Me Love."
[Laughs] How wonderful would that be? I think it would be really, really good for me and for her? Just sisterhood, number one. Number two, you gain a whole new fanbase and so do I, so it's a win-win situation. It's a hot track. Yeah, yeah, I can hear that. I would love to do a remix of both her song and "Show Me Love."
Jason Derulo sampled "Show Me Love" for "Don't Wanna Go Home," which I strongly dislike, and it's sampled in Kid Ink's "Show Me." Did you like how they flipped it?
If somebody like Chris Brown is going to add my song to his lyrics, things could've worked out for me to bless his track and he would've had an entirely different new fanbase. Some of my fans, my people were very annoyed, but I say relevance is more important to me. So I thank them for keeping me relevant.
Do you follow the British acts like Disclosure? How do you think they're handling the house material.
I love them. I love "Latch." And there was another female singer in London, Rebecca Ferguson, who covered my tune on The X Factor and she did it with a different flair.
Mary J. Blige worked with songwriters and producers from London for this album. What's your relationship with London's music scene? I know that you've toured in Europe and worked with British songwriters.
I've worked with a lot of British songwriters and DJs. That was probably one of the smartest moves that could've been made in her camp. Because this is how it works: a British artist can sing over in London overseas for a long time and they don't really get too much play from their people. Sam Smith, you bring them over here and we fall in love with them. That's how it was for me. Couldn't get the time of day here. I was told I couldn't sing. I was nobody wants to hear that. Went overseas and the song blew up overseas and thanks to the American DJs and the overseas DJs who brought the song back to the States, when they brought it back it was already platinum. It's a double-edged sword. We can't get the love at home, so we go across the water and wow we blow up. The same thing happens with their artists. I've spoken to artists overseas who have been trying so hard to get things to happen and they use the example of Adele. We love Adele, so we gravitate to what's not here at home.
I read that you performed for cruise lines. What was that like?
It was fun. I wanna do it again. [Laughs] You build a rapport and when you're doing stuff like that and you're on the cruise, there's no way for you to get off. You allow them to reach out and really touch you. You allow them to see you everyday, to become apart of who you are. That's one of the nicest things an artist can do for their fanbase.
I saw part of a documentary where French DJ Francois K described house as the type of music that reminds people that they're alive.
There you go.
I love that explanation. What did it do for you?
I vibe off the crowd. I always say you have three seconds, from the time they introduce you to the time your first song starts, to look into your audience and see who you want to mess with for the night. I'm not gonna mess with the person that's like, "Yay!" I wanna mess with the person that's standing there with their arms folded wondering if I'm really singing or not. Music within itself makes me feel alive. I listen to all genres of music. For me, music has always been a part of my life.
How did you deal with your transition out of the spotlight?
I read something—I believe it was an xx cover. They were doing "Show Me Love" and they said there were two Robins and one went on to be a pop star and the other one just faded after a while. I never faded. I'm like a stealth jet. I fly under the radar. I'm not done yet. You don't necessarily have to stay in to have people talk about you. Of course you're gonna get the "I wonder what happened to...." and "One Hit Wonder." I can take that because we're all opinionated. I know what I'm doing. I'm doing my thing overseas all the time. I'm leaving tomorrow to go to Amsterdam and Barcelona.
Just because people don't hear of me doesn't mean that I'm washed up or you're only as good as your last hit. On YouTube, I have quite a bit of singles that are out there. Are they sticking? I say they're sticking because people are still playing them. Is it making the grand noise? No, it's not. But it's okay. I'm okay with that. If something happens to stick, I'll be okay with that, too. I have a single releasing, "So Alive," with Ron Caroll out of Chicago. I'm still working. I may not be in the limelight, but sometimes that's good. You get to be you and still perform.
Image via Robin S by photographer Lazaro Concepcion