Robert Pattinson tooled around Los Feliz in his pickup truck with a ping-pong table in the back and It-girl/Elvis Presley's granddaughter Riley Keough — who is also a friend of Kristen Stewart's — in the passenger seat. Like the beginning of a Taylor Swift song, isn't it?
R-Patz and Riley had previously been seen "talking" — you know, that thing you do before coitus, sometimes — on April 9th at Kristen's birthday party at a Mexican joint. Granted, driving a girl around is not exactly dinner and dancing, so this is all just rampant speculation, but Pattz is not one for grand gestures. After all, for K-Stew's birthday he got her a pen. [NYDN]
---
Amanda Bertoncini, some woman who stars on Bravo's Princesses: Long Island, basically drunkenly dry-humped a 9/11 memorial statue with some friends and took pictures. Class all the way.
At the photo shoot, the loudmouthed Bertoncini — who is hawking a bedazzled beer-can holder — stripped down in front of the statue as cameras rolled. Then, she and a photographer were recorded urging a model to drape herself on the statue and thrust a beer can into its mouth. "Kiss the fireman. Try to feed him the beer," the photographer says. "Yeah, feed him the beer!" Bertoncini adds.
G/O Media may get a commission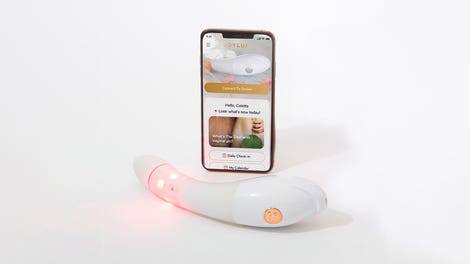 $50 Off
Joylux vFit Gold Device
After being slammed by the family of Jonathan Ielpi, the 29-year-old firefighter from Great Neck who inspired the statue, Bertoncini made a statement: "I would like to extend my deepest apologies to the family of Jonathan Ielpi. I never meant to hurt or offend anyone when I was dong my photo shoot for the Drink Hanky." Oh, it was for THE DRINK HANKY. All good, then. [NYDN]
---
Alec Baldwin, the man who cried I Hate Acting And Tweeting And Just Want To Live In A Cabin in The Mountains But Wait LOOK AT ME LOOK AT ME, said some things after he got in trouble for calling a reporter "a toxic queen" on Twitter:
"I really learned a lesson at the funeral. I said to myself, '[tweeting] is a waste of time.' Meaning it's fun sometimes, but less and less, and less. It's just another chink in your armor for people to come and kill you. I stopped and said to myself, I'm going to try where I just don't do this anymore."

"I'd love to [quit acting] if I could, yeah," he added. "That would be the greatest thing in the world."
"If I could?" Is Alec Baldwin in Chinese acting prison? Both Twitter and playing pretend for shit-tons of money = optional. [Us Weekly]
---
Helen Mirren has the best advice for Lindsay Lohan and trouble starlets of her ilk, ever.
"Don't be up your own bum. People get up their own [bum], and you really don't need to… Just don't do that."
YES. YES. HELENNNNN. [Gossip Cop]
---
Image via Getty