Yesterday on TMZ live, Ann Coulter blamed her instantly legendary bombing at The Comedy Central Roast of Rob Lowe on editing. But Coulter's set was so horribly unfunny and incompetently delivered that her excuse reads like more of the same truth-bending she often calls on to support her political arguments.
"I don't know how they edited it, but I know I got [the] laughs when I was there," she claimed. "They didn't seem to be wanting to do me any favors and you can do a lot in film editing. But yeah, I wish they'd just wish they'd run the whole roast straight without their editing."

Incidentally, I do too, to potentially expose this person's delusions even further.
G/O Media may get a commission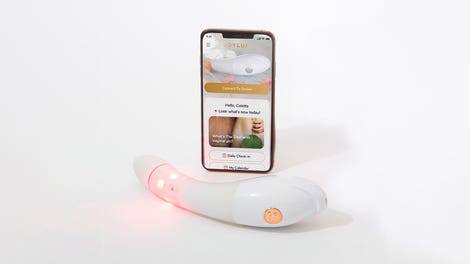 $50 Off
Joylux vFit Gold Device
There's Coulter's account, and then there's everyone else's. Comedian Jeff Ross, the roast's "Roastmaster," was grilled by a TMZ paparazzo last night. His recollection refuted Coulter's claims. Asked if Coulter was "really that bad," Ross replied, "Yeah."
"We edited it to make her look as best we could," said Ross.
Before the roast aired, Coulter was already crafting the unfair-editing narrative. During an appearance on Sam Roberts' Sirius show on Friday, Coulter claimed she "killed," and that "the only guy that was funny, apart from me" was Jimmy Carr.
"Based on how I was treated, my suspicion is the editors aren't big Ann Coulter fans," said Coulter, who likely had zero insight into the taste of the show's editors, with whom she did not share the stage. Another possible narrative here is that Coulter knew she bombed immediately and started crafting her excuse in advance of the show's airing. The roast was taped August 27, and aired Sunday.
Tony Hinchcliffe, a comedian who was assigned to assist Coulter with her joke-writing, along with fellow comedian Mike Lawrence, said on David Feldman's podcast that he and Lawrence wanted Coulter to steal the show, but she wouldn't cooperate and rewrote or excised many of the jokes they'd worked on. He said that "the boos rained down" on Coulter as soon as she pulled her book out to promote it onstage. Hinchcliffe compared Coulter's performance to "a gif of a train wreck, just over and over and over and over..."
"I don't know what kind of editor they have at Comedy Central, but unless he has Spielberg-like CGI, I'm pretty sure that there's no way they could make that set look good," said Hinchcliffe in the podcast that was published Saturday, the day before the roast aired.
Hinchcliffe also said Coulter told him she'd never watched a Comedy Central Roast before and refused to watch Martha Stewart's stellar turn on the Justin Bieber roast.
"I think her ego is just so out of control that she really thought she was funny," said Hinchcliffe. "And she doesn't realize there's an art form to it."
"She is a monster of a human being," said Hinchcliffe. "Absolutely the worst human being I've ever worked with in my entire life."
Coulter's refusal to accept accountability for her poor showing seems par for the course for a self-righteous racist who's made a career out of blaming other people for everything that's wrong in the world.
Or... this was all intentional performance with an elaborately constructed narrative from an entertainer whose brand depends on people loving to hate her. "I think people would like to see her bomb more than do good, and I think she gave us that opportunity," considered Hincliffe. "The genius that she is, maybe, she probably did what was the best thing for the roast."
With Ann Coulter, you just never know.