For those of you unfamiliar with The CW's surprisingly fun reboot of Riverdale, allow me to fill you in on the most important detail: Archie got hot. He is played by New Zealander K.J. Apa, who is currently making headlines because he fell asleep at the wheel after a 14.2-hour work day and crashed his car into a light pole.

Apa was thankfully uninjured in the crash, but the Screen Actors Guild‐American Federation of Television and Radio Artists (SAG-AFTRA) is—much like the aforementioned pole—absolutely shook. Despite Warner Brothers's claim that Apa could have taken a cab home (transportation to and from set isn't provided for the cast unless they "if they feel it is unsafe to drive"), the union is heading on up to Canada, where the show is filmed, to do a little ground work.
In a statement, they wrote:
"This is an extremely troubling situation and we are deeply concerned about the safety of performers on the Riverdale set. We are sending a team to Vancouver to review the circumstances surrounding safety issues affecting performers on this production."
THR reports the crash, which occurred last week, has "ignited a firestorm of protest on the Riverdale set."
[Deadline]
---
Page Six wrote a little story about Leonardo DiCaprio juggling several different women this week, and I'm going to share some of it with you.

G/O Media may get a commission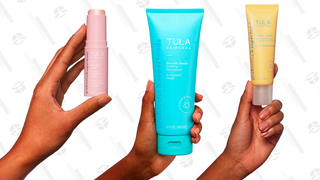 Our man was flirting and laughing with a model named Lorena Rae at a Theory store in lower Manhattan on Tuesday, but she left him alone after picking out "a $365 jacket" for him to buy. Once Rae was out of the picture, this happened:
...the star soon "received a call on his cell and rushed outside . . . straight into the arms of his former lover — 25-year-old blonde Toni Garrn."

A source added: "Leo ditched his bodyguard so he could share an intimate dinner with Toni" at North End Grill. After a post-meal stroll by the water, the former couple headed to Garrn's apartment.
On Wednesday night he was seen eating dinner with someone named Ania Cywinska, whom I have never heard of but imagine looks a lot like a combination of, oh, Rae and Garrn. A "friend" assures Page Six that DiCaprio is "not dating anyone."
[Page Six]
---
"And don't apologize. You weren't an asshole. They asked if u were and I sort of agreed. I wasn't out to get you."
Marilyn Manson on why Justin Bieber shouldn't apologize for "repurposing an old Manson shirt" for his own merch
Image via Getty
"I'm not digging the brown spots I've got going on at this age. But guess what? You've got to welcome them all."
Robin Wright on aging
Image via getty
"Marriage is hard."
Brian Austin Green on marriage
Image via getty
"These little smartasses download fucking tunes. For nish."
Liam Gallagher on you and me
image via screengrab
[Celebitchy / People / Us Weekly / Lainey Gossip]

---