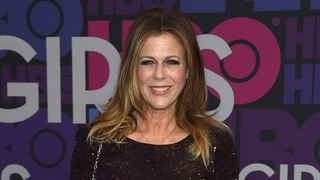 Rita Wilson had a double mastectomy and reconstruction after being diagnosed with invasive lobular carcinoma, the actress and singer shared with People in an exclusive statement. She took a leave of absence from Larry David's Broadway play Fish in the Dark to have the procedures.
Last week, with my husband by my side, and with the love and support of family and friends, I underwent a bilateral mastectomy and reconstruction for breast cancer after a diagnosis of invasive lobular carcinoma. I am recovering and most importantly, expected to make a full recovery.
She repeatedly stresses the importance of second opinions in her statement.
I share this to educate others that a second opinion is critical to your health. You have nothing to lose if both opinions match up for the good, and everything to gain if something that was missed is found, which does happen. Early diagnosis is key.

Feel better, Rita!
Give her everything she asks for, Tom!
Image via Getty.
---
Contact the author at bobby@jezebel.com.