Rihanna's lawsuit against Topshop could set a legal precedent in the U.K. The singer is suing the fast fashion chain for selling tank tops emblazoned with her image, in the form of a still from the "We Found Love" video. In the U.S., people are considered to have image rights that entitle them to sue to prevent such uses of their image. But in the U.K., a company can sell merchandise bearing any photographic image the company has a legal copyright to. Topshop seems to have been smart enough to not sell the tops on U.S. soil. So Rihanna's team must prove that Topshop, in producing and selling the shirts, was trying to imply Rihanna's endorsement of the brand. Rihanna, meanwhile, has a clothing line with the competing chain River Island. [WWD]
---
Taco Bell appears to be engaging in a weird viral marketing campaign where it sends jewelry and hand-written love notes to random models and actresses. Chrissy Teigen got one, so did Jessica Lu from Awkward, a Miss California, and a former Days of Our Lives actress. [Racked]
---
• The National Retail Federation remains opposed to the Accord on Fire and Building Safety in Bangladesh. Many U.K. and European retailers have signed, but American companies have been slow to get behind the accord — because, labor-rights activists say, they don't want to have to pay or be responsible for improving working conditions in the impoverished nation, or acknowledge their garment workers' right to collective bargaining. Not so, says the N.R.F.; it is merely concerned about "jurisdictional and liability issues" and with foreign companies "usurping" safety standards and enforcement powers that rightfully belong to the government of Bangladesh. [WWD]
G/O Media may get a commission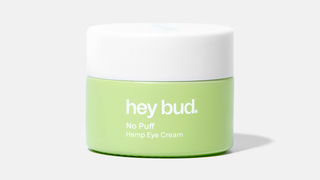 15% off
Hey Bud - No Puff Hemp Eye Cream
• The A.M.F., the public body that regulates the French stock market — basically the French equivalent of the S.E.C. — has spent two and a half years investigating the world's largest luxury conglomerate, Louis Vuitton Moët Hennessy, and its stealthy acquisition of more 22.6% of competitor Hermès. Details of the regulators' report were leaked to Le Monde newspaper, and they are damning for LVMH:
[T]he French newspaper reported that LVMH began building its stake in Hermès as far back as 2001 via subsidiaries in various tax havens, employing the code name "Mercure" for its investment operation.

The company resumed its quiet accumulations — in amounts below mandatory disclosure thresholds for public companies — in 2007 via equity derivatives through financial intermediaries, Le Monde said.
LVMH has claimed that it came to own a significant chunk of Hermès, a family-controlled but publicly traded company, "unexpectedly." It has denied that it wants to take over Hermès; meanwhile, Hermès has made a criminal complaint against LVMH and reorganized its share structure in an attempt to prevent the conglomerate from further enlarging its stake. LVMH has counter-sued Hermès. The French government closed the legal loophole to ensure future purchases such as those LVMH made will be subject to public disclosure. Hermès had no comment on the Le Monde article; LVMH said the newspaper acquired the document in "illicit ways." [WWD]
• Aslaug Magnusdottir, the co-founder and C.E.O. of Moda Operandi, is no longer with the company. Page Six reported on rumors of a falling out between Magnusdottir and co-founder Lauren Santo Domingo. [BoF]
• In order to revive J.C. Penney's fortunes, former-turned-now-again C.E.O. Mike Ullman plans to focus on e-commerce, "rebuilding" private-label brands, and sales, sales, sales. (Which, everyone knows, actually means inflated MSRP's that are scheduled to be "marked down." But hey, people love a discount.) [WWD]
• Women's Wear Daily reports that a list of the fifteen cities that had the highest number of store openings last year included many of the usual suspects — New York, Los Angeles, London, Milan, Paris, Beijing, Shanghai — but also some (potentially) surprising locales, like Istanbul, Barcelona, and Munich. [WWD]