Rihanna debuted a collection of assorted fabrics Saturday night at River Island as part of London Fashion Week, and, if the outrage expressed by Tom Sykes of The Daily Beast is any indication of the prevailing critical sentiment, things did not go well.
For one, there were belly buttons everywhere, and while some people (such as the Vaseline-slathered Charles Barkley) might be into that sort of thing, Tom Sykes is most certainly not into that sort of thing, which he'll cantankerously tell you in his most censorious, slut-shaming tone:
True, there were some consolations. For example, if you really, really like belly buttons, if you are totally nuts for navels, then this could be the collection for you.

If you only feel capable of wearing clothes on the lower half of your body if they are slashed up to your waist, then again, you are in luck.

Similarly, if you were a guy hoping for a one night stand and a girl started chatting to you in a bar wearing anything from the Rihanna for River Island collection, you could feel fair confident you'd be getting lucky. The only lingering uncertainty in your mind would be whether or not she would take a credit card.
To be fair, Sykes seems way more miffed about the fact the British Fashion Council let a pop star steal the fashion spotlight from actual fashion designers, men and women who are busy chalking up fabrics and thinking creatively about interesting ways to drape human limbs in fabric. Rihanna, after all, isn't a fashion designer — she's a singer/journalist terrorizer, so it does suck that her gianormous public persona overshadowed the rest of LFW. Still, Sykes might have opted not to disparage sex workers because Rihanna's fashion show featured belly buttons prominently. After all, doesn't the crusty, smelly little rabbit hole to our in utero memories deserve its time in the fashion show spotlight?
G/O Media may get a commission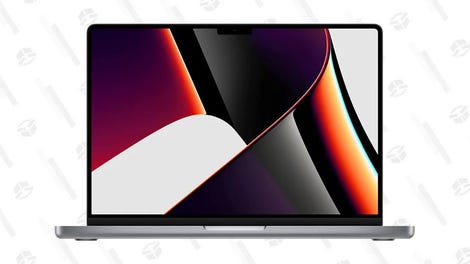 Save $300
2021 14" 1TB MacBook Pro