Rihanna is the most important millennial of our time. The Rihanna Rihport is where we chronicle the magnitude of her lived existence.

Rihanna, December 29—The year began with the rickety determination of a deregulated wooden roller coaster creaking uphill and dipped far below the earth's crust into its bitter core of scorching magma but the one thing that kept the Navy going was our queen. That's right, the lord of light, the Last Jedi, the old god and the new, Robyn Rihanna FENTY!
Rihzus started 2017 protesting Donald Trump, the Eye of Sauron to her Lady Galadriel, but they had one thing in common: both spent this year raking in gobs of money! Only Robyn's was CONSTITUTIONAL because she is our BEACON in the LIGHT AND GLORY, the democracy of all democracies!
January
G/O Media may get a commission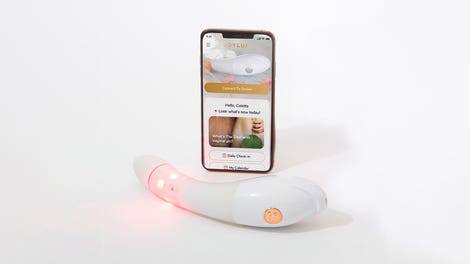 $50 Off
Joylux vFit Gold Device
Rum bum bum bum, rum bum bum bum, rum bum bum bum! When the commoners were in the streets protesting for the Women's March, who was right there with us but OUR CAPITAN! THIS P***Y GRABS BACK, INDEED!
WE CAME TOGETHER FOR PRO-CHOICE!
In between being a voice for the proletariat, she spent some time filming Ocean's 8 with some other ladies, allegedly as a cool hacker who likes to hack things and steal diamonds! CYBER!
The first rule of Ocean's 8 is, always listen to our god the queen RIRI!
February
Creme tangerine and montelimar! In February Rihanna hit up the Roc Nation brunch prior to the Grammys just casually draped in an orange hi-lo crop cape like Kylo Ren's mom on a vibrant kick—making the fruit spread look pallid! Jay Z was like ha-ha, ha-ha, WINE TIME!
Oh, you thought Rihzus wouldn't serve a look to its very end? THINK AGAIN, HUNTY. She hit up the actual Grammys (where she was ROBBED by a bunch of lesser muhfuckers) in beaded creamsicle and a crystal flask, cause awards shows are BORING! SHAKE~ IT ~ UP ~ RIRI!

Harvard University finally figured out how to make up for foisting a bunch of Silicon Valley assholes unto the world and awarded their Humanitarian of the Year Award to ROBYN RIHANNA FENTY! Because our selfless leader made a bunch of money and then gave it back and in her speech was like "I AM BENEVOLENT, I DIDN'T EVEN HAVE TO APPLY!" and the crowd was like yaaaaaaaaaaaaas!

And Amelia Earhart, from her grave on that island, was like yaaaaassssss!
March
In like a lion out like a RIHANNA, amirite!!!
She was like Ima be on Paper Magazine in a bodega and bring Duckie and that other chick with me...
...also I will attend a Dior fashion show in Paris because I am a Dior ambassador who ALSO has my own fashion line! HELLO to this chatreuse jacket on the Fenty runway...
...PS I'm in Bates Motel as the iconic woman who gets murked out in the shower! How you like me NOW!
April
Remember when there was a Met Gala celebrating Rei Kawakubo, the most innovative designer of our time, and the only people who even rose to the occasion were Caroline Kennedy and our freaking Boss and CEO Rihanna? SO DO WE!
FASHION NEVER STOPS!
Remember when she wore a Swarovski mesh Dior bodysuit, phresh off the runway, to the desert storm and Port-a-Potty hookworm petri dish that is Coachella? YES, YOU DO!
May
A LEWK. (BONG.) A LEWK. (BONG.) ANOTHER LEWK. (BONG BONG.) ANOTHER OTHER LEWK! After hitting Cannes and celebrating her collection of FINE JEWELS with Chopard, Rihanna had to fly back to be honored by Parsons because Parsons saw the Harvard video and was jealous! Also, because Rihanna is the most stylish woman alive! What!
June
Let's take a moment of silence for Kevin Durant, the professional sports man who our queen savagely and beautifully destroyed by screaming "BRICK!" during the NBA championships. RIP Kevin Durant, it was nice knowing you but you were poxed and so are now deceased.

Here is proof that Rihanna, even in her off season, can make even the absolute worst songs worth listening to! Sorry Asahd! Also, is she in LOVE?????
July
Movie star Riri showed out for Valerian and the City of a Thousand Planets, a film about a cabaret dancer (Rihanna) with supporting roles from her friend Cara Delevingne and some other dude, in Los Angeles...
...in London...
...in Paris, where she kicked it with French President Emmanuel Macron and First Lady Brigitte Macron, who was over the moon to finally meet her idol! BRIGITTE, SAME!!
August
CROP OVER. You already know what it is.
Another moment of silence for the fallen, this time the DJ, producer, and red-carpet celebrity Wesley "Diplo" Pentz, who got canned for his canned riddims. RIP, #dutyfree.
Fundamentally, I have a philosophical problem with Rihanna's Stance collection, because while they are adorable and of course as her loyal subject I respect Rihanna's every bit of hustle, the concept of putting the visage of such a queen on your stanky smelly footbeds and, theoretically, sweating into it, is more offensive than some people find letting the flag touch the flat earth. True fans know and observe the sacred pact we have with our leader, and it does not involve stepping on an artists' rendition of her in the "Work" video! THY BLASPHEME!
September
Fenty x Puma Spring 2018, in Paris, is motocross themed. This woman is never not having fun.
HAHA FENTY BEAUTY LAUNCHED AND NOTHING WAS THE SAME. She was also on roughly one thousand (1000) magazine covers!! Good job to these editors!! Finally making good decisions after a year of raggedy-ass ones.
Remember it like it was yesterday...
October
There's not enough time in the YEAR to express how much I love this look! RIHZUS, QUEEN OF TRUFFLES (TULLE x RUFFLES), LAMPING IN SNEAKERS ON A TUESDAY.
Vogue (US) was like oh no, Harvard and Parsons are beating us, we have to honor Rihanna too! And Riri was like "Cool cool now let me hit up a Bloomingdales in Manhattan to talk to the REAL FANS okurr"
Nefertiti wishes!
A unicorn WISHES.
November
There is a street named after her in Bridgetown, Barbados, because DUH! HONOR THY MOTHER AND MOTHER!
UNIVERSAL. RED. This is true benevolence.
OH, I dropped a beauty line? But I don't really need makeup? Au contraire, Vogue Paris! Rihanna is the one true editor of your magazine!!
Dazed? More like FAZED, after Rihanna became the new editor of your magazine!
Oh, and MOM RAPPED!
December
The puffer jacket seen ROUND THE WORLD!
Rihanna loves us and we love her. May 2018 be better than before, and full of the unending light of Rihanna, song unto flesh, mediator between Navy and commoners, healer and giver, herb and wine of life! Amen and GOOD NIGHT!!!