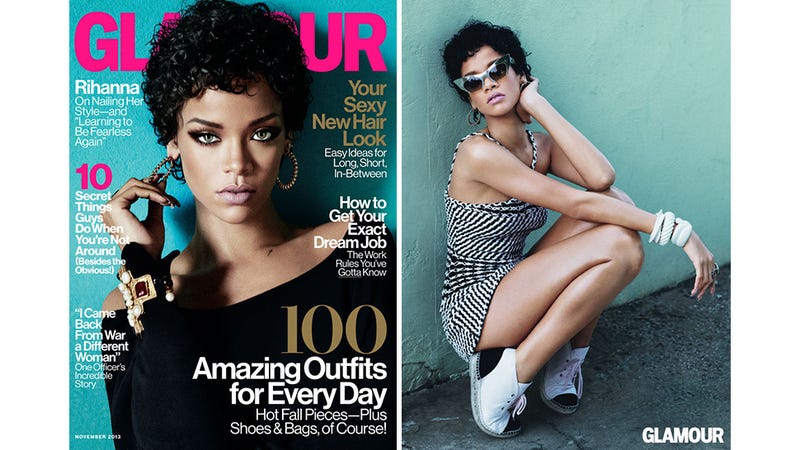 Rihanna's on the November cover of Glamour magazine, and inside, she sounds like a Rockwell song come to life.
When asked if she ever feels trapped, Rihanna replied:
There's stuff like not being able to walk around as I please. I feel like I'm being watched. Always. Like, I want to tan topless somewhere, and I know I probably could never do that. Even if I'm upstairs in my bedroom, and the curtains are pulled, I feel like a paparazzo's outside on a boat somewhere or somebody's peeping.
She also tells the mag she was teased a lot as a schoolgirl, but says, "I think those experiences were strategically put together by God for the preparation of being in the music industry. It's so easy for me to deal with the bullshit now."
And though she's Rihanna to most of the world, in Barbados she goes by Robyn, her real first name.
When people call me Robyn, my head just flies around because I feel like that person knows me. But Rihanna, that tends to be people's own [creation]. Robyn is who I am. Rihanna—that's an idea of who I am.
(As an aside, if you're keeping track, Glamour has had two covers featuring women of color in a row — Kerry Washington landed the October issue. Nicely done.)
[Glamour]