After years of concern, concern-trolling, and self-destructive behavior that made even Oprah do this, Rihanna is allegedly taking some time off from her Diamonds World Tour to check into a women's sex and love addiction program at Centers for Relationship and Sexual Recovery (CRSR) on Recovery Ranch, a Tennessee facility.
Ana Gasteyer Satirizes the Girl Boss in 'American Auto'
A source says that she made the decision because she's been pining for Chris Brown: "Rihanna is still desperately in love with Chris. It's like she's obsessed with him and, although he's told her it's over, she just can't get over him. After talking it through with a psychotherapist, Rihanna is now considering doing a 12-step programme to get rid of her demons.'' A bit about the program, which is run like a standard substance abuse clinic—
The Ranch's 'Women's Love and Sex Addiction Treatment Program' helps women with issues with ''attracting troubled, addicted, abusive or otherwise emotionally unavailable partners'' using treatments as varied as counseling and equine therapy.
I am optimistic about this! [TV3.ie]
"It could end really badly." -Drake states the obvious about Rihanna and Breezy in a GQ interview. [NYDN]
G/O Media may get a commission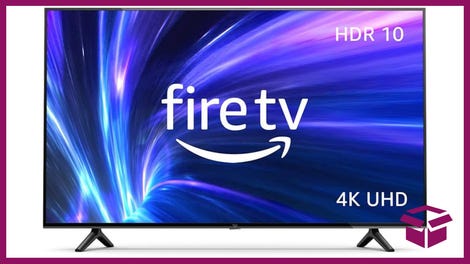 42% Off
Amazon Fire TV 50" 4K Smart TV
---
After denying the allegations of abuse when photos of him choking wife Nigella Lawson at a restaurant emerged this weekend, Charles Saatchi has accepted a Scotland Yard caution for assault after a five-hour interrogation yesterday. [Us Weekly]
---
Jennifer Lopez has just been cast in the inevitable Chilean miner drama. It sounds like the World Trade Center of upcoming movies about the Chilean miners.
THR reports that [Antonio] Banderas will play the role of Mario Sepulveda, the charismatic miner nicknamed "Super Mario." Martin Sheen will play his father, while Brazilian actor Roderigo Santoro will play one of the trapped miners.
Jennifer Lopez will play coal. [CBS News]
---
Amanda Bynes hung out with Wyclef Jean last night to discuss a potential collaboration. Once again: the former Penny Pingleton and the dude responsible for making me silent-cry in my car one time might be cutting a track together. Record CEO says: "This album is going to shock the world. She has such a great voice. Singers wish they could hit the notes that Amanda does." [E!]
---
James Franco — who has a net worth of $20 million, by the way — is trying to raise $500,000 from Jane Q. Publics like you and me to film three stories from his debut collection Palo Alto. The profits from the film will go to a charity called Art of Elysium, which "supports first time feature film directors that have been volunteering their time with children in need." Which is cool! But also kind of darkly hilarious that it's not going to the children? Doesn't that seem like it could be a punchline from The Comeback? [Vulture]
---