In the video for "Bitch Better Have My Money," Rihanna kidnaps model Rachel Roberts with the help of two friends/henchwomen. One of them, Instagram star and self-described "TECHNO PRINCESS MODEL" Sita Abellan, may have looked familiar to you. The other, Sanam, probably didn't. In an interview with VICE, the Seattle resident and sudden Rihanna BFF talked about the Instagram photo that got her the gig and how it's already changed her life.

Sanam's BBHMM story began three months ago, when Rihanna noticed this photo on her Explore page:
Rihanna clicked 'Follow,' and Sanam flipped out.
When I refreshed my notifications, she had unfollowed me, so I was sad about it. Then two weeks later, she followed me again. The next morning, I went to work, and I got a DM from her on Instagram. She was like, "Hey, I have this idea I want to run by you. I think you're so fucking rare. Let me know if you're interested."
G/O Media may get a commission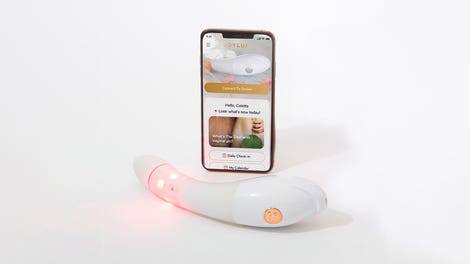 $50 Off
Joylux vFit Gold Device
"I think you're so fucking rare" is the kind of perfect compliment that, when said to you by Rihanna, would probably keep your spirits lifted for decades. (And I will certainly dream of her saying it to me.)
After learning Rih wanted her to star in an upcoming video, Sanam, who works at a plant store and describes herself as "hella normal," was put in touch with the production company. She spent her the "entire day" at work "going back and forth talking to them."
At the end of the day, they were like, "We just got the confirmation from Rih: We want to cast you, and we want to fly you out tomorrow." And I flew down there the next day.

She followed me on Instagram on a Wednesday night, and then I was in LA on Friday morning. It was crazy.
On set, Rihanna was as wonderful as you'd hope she'd be.
She's so sweet. She was showering us with compliments. She is so fucking real and down-to-earth, which is the corniest thing to say about a famous person, but she really is.
When she's not at the plant store, Sanam makes art that speaks on "speaks on social justice issues." She hopes the BBHMM video will give her the kind of exposure she needs to continue doing her work.
It's hard to make art when you're a woman, but especially a woman of color, just because it's not respected in the same way as a white male artist's work. It's really hard to feel empowered sometimes. Being in the video, I feel like that's given me a little bit more of a platform to talk about that kind of stuff.
Rihanna: changing lives one bloody kidnapping at a time.

---
Contact the author at bobby@jezebel.com.
Image via Instagram.