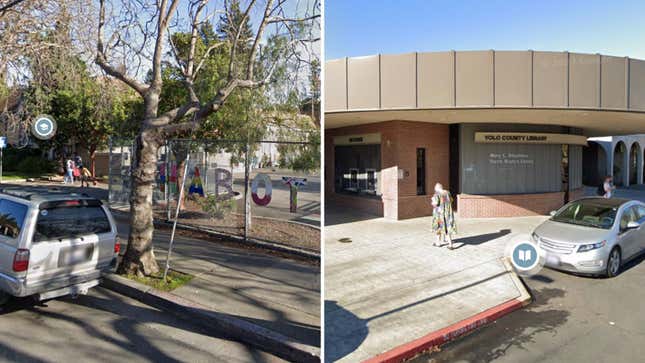 An elementary school and local library in California were both evacuated due to bomb threats within 24 hours of each other on Monday and Tuesday, and a school district in Oklahoma has been inundated with daily bomb threats in the last week, all following attacks from right-wing groups.
On Monday morning, the Mary L. Stephens Davis Library in Davis was evacuated after receiving a bomb threat reportedly riddled with anti-LGBTQ slurs and "hate speech" in retaliation for the library kicking out the local Moms for Liberty group for conducting an anti-trans speaking event earlier this month, the Sacramento Bee reports. And on Tuesday morning, an hour and a half away, an elementary school in Oakland was evacuated after receiving a bomb threat that included racist language, shortly after it was singled out by the anti-LGBTQ Libs of TikTok account for a diversity event the school was promoting.
These incidents in California come at the same time that a school district in Oklahoma has been inundated with daily bomb threats since last week, after the state's superintendent of public instruction, Ryan Walters, shared inflammatory posts from Libs of TikTok targeting a library in the district for spreading "woke ideology." He quote-tweeted the video to say, "Woke ideology is real and I am here to stop it." Union Public Schools, a district close to Tulsa, says it's received bomb threats on six consecutive school days since the end of last week, prompting state House Democrats on Tuesday to announce an impeachment probe against Walters.
Libs of TikTok and Moms for Liberty both share similar bases of right-wing support and lean in hard on issues pertaining to queer youth, identity, and teachings about racial justice and diversity in schools. Of course, neither actually cares about children's safety—Libs of TikTok previously galvanized anti-trans bomb threats aimed at a children's hospital in Boston for offering gender-affirming care—and both are merely interested in bullying and harassing marginalized communities, to the extent that, in this case, their harassment is physically endangering kids.
Local police in Davis linked the library's bomb threat to two previous bomb threats—both in response to the library's decision to remove Moms for Liberty for its virulently transphobic "Fair and Safe Sports for Girls" event. One of the Moms for Liberty speakers at the library event shared what happened on Twitter and called on her followers to identify the librarians, leave reviews, and harass the library with phone calls.
And leading up to the bomb threat at Chabot Elementary school, Libs of TikTok publicly harassed the school on social media over an event they organized for "Black, Brown or API" families, per an event flier. In a statement to local news station KRON4, the school's equity and inclusion committee said that since Libs of TikTok and Alex Jones' far-right InfoWars started spreading the story about the school's so-called "no whites allowed" playdate event, the school has "been receiving calls nonstop and Trump supporters and other unhinged racists have been spreading the school's info by posting the address of our kids' school for the whole internet to see." The statement continued, "We have received a threat that has triggered an investigation by OPD which is now being considered a hate crime."
The FBI is currently working with the Oakland Police Department to investigate not just the bomb threat aimed at the school, but similar bomb threats targeting individuals and families associated with the school on the same day. "I am outraged that our children, educators and neighbors have been targeted by malicious threats," Oakland Mayor Sheng Thao wrote on Twitter on Tuesday afternoon.
Two bomb threats within 24 hours of each other in California, and a string of bomb threats targeting a school district in Oklahoma—all stemming from attacks from far-right groups—is utterly terrifying and completely avoidable. It's a reminder that right-wing harassment campaigns can present very real, physical danger for marginalized communities and, in this case, literal children.