On Tuesday, the White House confirmed that Kayla Jean Mueller, a 26-year-old American woman kidnapped outside a Syrian hospital in 2013, died while being held captive by ISIS. According to media reports, her parents have been provided with at least three photographs of her corpse. So now, naturally, is the time for conservative pundits to gloat about how she "deserved it."
ISIS is claiming that Mueller, a native of Prescott, Arizona, was killed in a recent Jordanian airstrike backed by the United States. Both the governments of Jordan and the United States say that claim is unconfirmed.
In the meantime, as Talking Points Memo was first to point out, far-right blogger and terrible opinion-haver Debbie Schlussel has decided to weigh in. Schlussel regularly courts controversy with anti-gay, anti-Muslim, anti-immigrant columns of smashing subtlety (sample quote, re: gay marriage: "Gay marriage is just the last straw. Or is it? Why not legalized bestiality marriage or pedophile marriage, since they, too, are 'born that way' and are 'discriminated against'?")
So naturally Schlussel has piped up to say that since Mueller was an aid worker who'd also participated in pro-Palestinian activism, she deserved to die. From her story, titled, "Kayla Mueller: Dead ISIS Hostage Was Jew-Hating, Anti-Israel Bitch":
No tears for the newly-departed Kayla Mueller, the ISIS hostage whose parents confirmed today that she is dead. Mueller was a Jew-hating, anti-Israel piece of crap who worked with HAMAS and helped Palestinians harass Israeli soldiers and block them from doing their job of keeping Islamic terrorists out of Israel. She also worked to prevent Israel from tearing down terrorists' "houses," which the Palestinian terrorists used to smuggle weapons from and to HAMAS in order to perpetrate terrorist attacks. And she wrote several lying, anti-Israel blog posts.
G/O Media may get a commission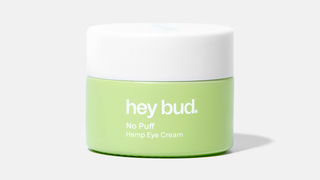 15% off
Hey Bud - No Puff Hemp Eye Cream
Mueller volunteered in the West Bank in 2010, part of the International Solidarity Movement, the same pro-Palestinian organization where Rachel Corrie volunteered, the American woman who was infamously crushed by an Israeli bulldozer in the Gaza strip in 2003. Mueller arrived in Aleppo from Turkey in 2013 with a Syrian boyfriend or colleague intending to work for Doctors Without Borders, according to a New York Times report. But the country was far too dangerous for international aid workers, and DWB employees reportedly arranged for her to return to Turkey by bus immediately. On her ride back to the bus station, her car was ambushed and she and the man she had arrived with were kidnapped. He has since been freed.
Schlussel isn't the only one who thinks now is the time for her red-hot take on the death of a young woman. Sites like Weasel Zippers and the far-right Israel National News are also arguing that Mueller's sympathy for Palestine makes her death somehow less tragic. Joel Pollack, editor of Breitbart California, also weighed in:
This is it, guys. This is where we are as human beings.
Burn it all to the ground and salt the ashes.
Image via AP