Those darn wealthy people! It's like every time you see them, they're doing some ridiculous new thing like lighting a cigar with a $100 bill, buying their way onto lifeboats on the Titanic or tricking a rube into selling his oil-rich land for far less than it's worth. And this time's no different. Now, our world's upper crust are staying in luxury hotels that cost nearly $30,000 a night. Do you have any idea how many can-can girls a millionaire could take up with for that kind of money? HUNDREDS.
Safe to say, these $30K/night suites are faaaaancy, with specialty moldings, room for guests and custom art pieces. But you know what else is fancy? The continental breakfast at the Days Inn in Horsham, Pennsylvania. They have cheese danishes and tiny bagels. Also, all of the rooms have cable and I would know — I watched 8 Mile on VH1 the time I stayed there.
But back to the expensive LUXURY.
The New York Times details:
Take the Jewel Suite by Martin Katz at the New York Palace, one of two recently opened specialty suites. The three-story, 5,000-square-foot space — a sort of penthouse Versailles — itself resembles a jewel box, albeit one with its own private elevator and views of the Empire State and Chrysler Buildings.
The Jewel Suite is a bargain at only $25K. But why pay that when you can pay MORE?
In November, the Mandarin Oriental, New York, opened a 3,300-square-foot suite that includes floor-to-ceiling windows and a dining room that seats 10; its rate is $28,000 a night.
G/O Media may get a commission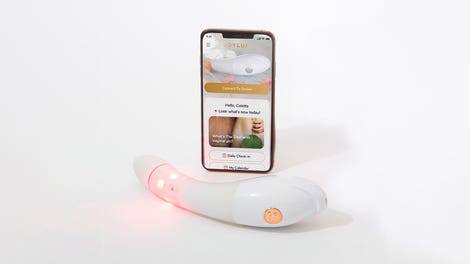 $50 Off
Joylux vFit Gold Device
So who is renting these rooms? Oh, no. It's NEW MONEY, the bane of the rich!
Ms. Danziger said the trend started in places like Singapore, London and major Middle Eastern cities. "You find that the new money types are the kinds given to this excessive display, valuing the display of this excessive, over-the-top consumption," she said. "Subtlety is not appreciated."
I know I am not a hotel designer, but I think I have a really good idea here: Let's open a hotel with rooms that cost $28K per night. When guests unlock the door to their "luxury" suite, it will actually open into a closet where I will be waiting to slap them across the face. They will learn a lesson (not to waste money on stupid shit) and we will get rich.
Image via Shutterstock.