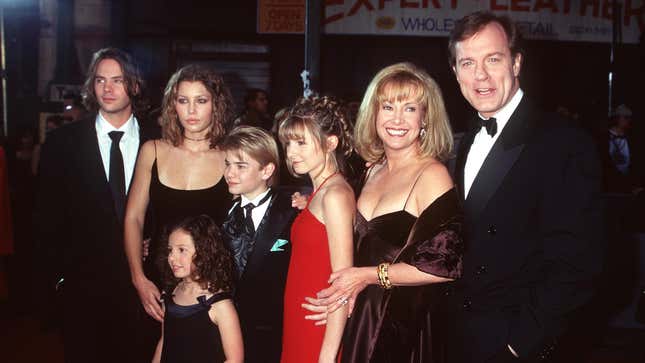 "Where can you goooo when the world don't treat you right?" wails the man singing the theme song for 7th Heaven. While maybe not the most mentally stable activity, I've personally been enjoying going to TikTok and doing a deep dive on 7th Heaven, the morally panicked family drama that ran for 11 seasons from the mid-90s to the mid-aughts on the WB. The online revival of the most harebrained clips from the show are the much-needed answer to the question I'm sure many of us asked: "What the fuck was going on with 7th Heaven?"
Revisiting the Ethically Dubious Singing Show, Superstar USA
For the uninitiated, the psychotically righteous show aired in the wholesome 8 p.m. Monday evening slot (the final season aired on Sundays.) America got to know the Camden family, which included Rev. Eric Camden, a principled Debbie Downer; his wife Annie, who—to the heartbreak of her husband— once smoked a joint (gasp); and their seven children, Annie, Matt, Lucy, Simon, Ruthie, Sam, and David. It feels noteworthy that the actor who played the dad, Stephen Collins, did admit years later to child molestation, and that did not stop creator Brenda Hampton from saying that "it would be fun" to include him in a reunion. Just something interesting to remember about a show that is essentially episodic Vacation Bible School!
Episodes harped on the moral panic du jour and served as an opportunity to remind the viewers that every single thing a child comes into contact with might send them on the wayward path to hell. Luckily, at the end of each episode, a lesson was learned, and it was usually something along the lines of "other people are poor/traumatized/not Christian/only have one parent/huff paint/are in a gang because they don't have the type of love our family has." Oh, also there were some vague incest storylines in a lot of episodes. I don't know what that was about.
For some reason, my 10-year-old self absolutely loved this series. I devoured it—which is in part why revisiting via TikTok now has been nothing short of an out-of-body experience for me. What I wouldn't do to travel back in time and see my nascent mind nodding in complete agreement that the Camden's alcoholic aunt should be locked away in a room to detox, while the eldest son monitored the situation. Tell her she's a drunk maniac, Matt, I was probably shouting at the TV in my parent's bedroom—which I'd snuck into to watch the show as they cleaned up downstairs.
Comedian Rob Anderson posts a lot of excellent recaps of the show and breaks down the titillating drama in a way that makes me ask, again, "Was younger me OK?!?" Though, I suppose the enticement of sex, drugs, and rock and roll within the safe walls of the Camden house was appealing to two audiences: suburban fearmongers pushing their upright agenda, and me, a child. Rewatching clips and seeing other commenters grapple with the batshit Evangelical propaganda show of my youth has been a balm I did not know I needed.