Some enterprising Londoner(s) took it upon himself or herself or themselves to warn prospective buyers about Chris Brown's garbagey personal life—affixing a warning label to every copy of his new album in a London HMV. The label reads: "WARNING. DO NOT BUY THIS ALBUM! THIS MAN BEATS WOMEN."
"It was very much an isolated incident and nothing to do with HMV or representing our views," a spokesman for the store told E! News. "It would appear a member of the public popped into one of our stores yesterday and stickered a handful of CDs.

"These were spotted and quickly removed, but, before we could act, the individual concerned must have taken a photo and sent it to the media. To our knowledge there are no further stickers in our stores now."
The person or group has not stepped forward to claim responsibility/credit/flowers for the act. [E!]
---
AMANDA BYNES FUCKING TAPPED ANOTHER CAR AT A RED LIGHT. JESUS CHRIST.
Earlier this month, the actress, 26, had her driver's license suspended. This week, she was ordered by a judge not to drive until she had a valid license.

Nevertheless, on Thursday night she was out in West Hollywood, where she headed to Equinox gym. While on the road, the starlet tapped another car with the bumper of her BMW 5-series while waiting at a red light, according to observers.
G/O Media may get a commission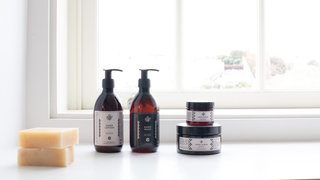 Exfoliate and Hydrate
The Handmade Soap Company
AAAAAAAAAHHHHHHHHHHHHHHHHHHHHHHH. [People]
---
In the middle of an interview with "Australia's 60 Minutes," Russell Brand reportedly "went crazy" and wrecked everything with a golf cart:
"He went crazy," Goyen said. "It was typical Russell Brand - he put his foot on the gas pedal, broke through some barriers, and ended up on a live set."

..."He started driving through sound studios and got stuck in one," the producer recalled. "The cart got wedged and he couldn't get it out."

But the wild man did offer some assistance: Goyen said he tried to lift the cart out himself, but when that didn't work, "Russell just decided to abandon the cart on the set and walk back to his office."
'Kay. [Celebuzz]
---
French tabloid The Closer has removed its topless photos of Kate Middleton, while simultaneously defending the photos with wide-eyed faux-incredulity:
The photos we chose are by no means degrading. They show a young couple on vacation, beautiful, in love, living a normal life. The article reports that the couple recently vacationed in the south of France.
The palace is fucking pissed and taking legal action. The Queen has dismissed her lawyers and will be representing herself. [Us]
Oh, also, the magazine claims they have sex photos too but they probably won't run them because they are a PARAGON OF DECENCY. [TMZ]
---