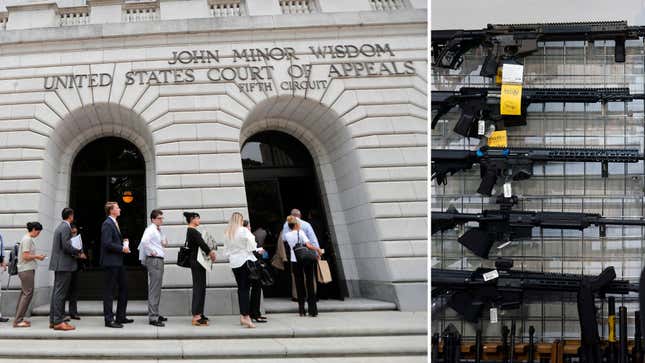 It looks like the Supreme Court may to have the opportunity to further chip away at women's safety and expand gun rights sooner rather than later. On Thursday, the conservative 5th U.S. Circuit Court of Appeals deemed laws that prevent people subject to restraining orders from possessing guns unconstitutional, thanks to the Supreme Court's June 2022 ruling in N.Y. State Rifle & Pistol Ass'n, Inc. v. Bruen.
Does Your State Have an Abortion Trigger Law?
The details of the case at hand involve Zackey Rahimi, a Texas man who was suspected of being involved in multiple shootings in the Arlington area. When police got a warrant and searched his home, they found both a gun, and a restraining order that barred him from "harassing, stalking, or threatening his ex-girlfriend and their child. The order also expressly prohibited Rahimi from possessing a firearm," according to the ruling.
Rahimi had physically assaulted at least two women—including a girlfriend—with guns, so it makes sense that the restraining order specifically banned him from having firearms. He pleaded guilty to violating the law that bars those subject to restraining orders from possessing guns. Despite his guilty plea, Rahimi's legal team challenged the law as unconstitutional under the Second Amendment, but the 5th Circuit initially ruled against them.
Then the 5th Circuit decided to pick up this this case again—on an expedited basis—because the Supreme Court's decision in Bruen upended the entirety of Second Amendment jurisprudence. In a decision written by ultra-conservative Justice Clarence Thomas, the high court ruled that in order for a gun law to be constitutional, "the government must demonstrate that the regulation is consistent with the Nation's historical tradition of firearm regulation."
"The Supreme Court has effectively rendered gun restrictions presumptively unconstitutional," legal writer Mark Joseph Stern tweeted in June following the Bruen decision. "This is a revolution in Second Amendment law."
"The question presented in this case is not whether prohibiting the possession of firearms by someone subject to a domestic violence restraining order is a laudable policy goal," Circuit Judge Cory T. Wilson wrote in Thursday's opinion. "The question is whether…a specific statute that does so is constitutional under the Second Amendment of the United States Constitution. In the light of [Bruen], it is not."
Anyone with an ounce of sense can see how illogical and dangerous this interpretation of the law is. The ruling has nothing to do with the safety matters at hand—something Wilson says almost explicitly. Instead, it is merely about some ambient notion of "gun rights" that trumps literally any other concern. Rahimi had a documented history of domestic abuse and using guns in his violent outbursts. Such a track record suggests real, life-or-death consequences if he—and others like him—are legally allowed to keep their guns. "The presence of a gun in a domestic violence situation increases the risk of homicide by 500%," according to the National Coalition Against Domestic Violence.
But as we've seen all too often in the U.S., actual human lives mean nothing to the right-wingers in our courts and our legislatures, who believe in a libertarian fantasy of gun ownership. Because there were no regulations governing the muskets and pistols used by the Founding Fathers, the "historical tradition" framework imposed by the conservative SCOTUS justices is the key to overturning this law that undoubtedly has saved lives by taking guns away from abusers. Jake Charles, a law professor at Pepperdine Law School, tweeted the depressing truth of the matter on Thursday: "The founders didn't care [about domestic violence], so modern laws can't."