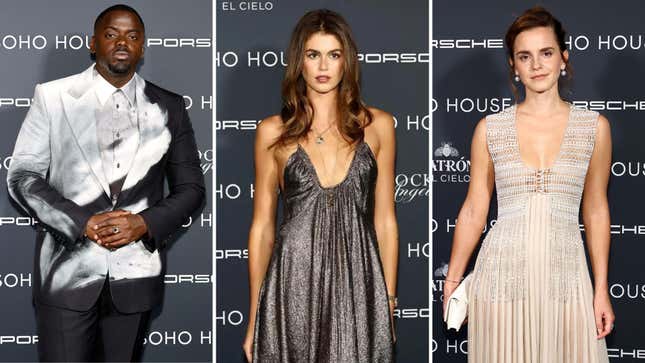 "The Soho House Awards are back!" the Soho House website reads. Well, thank GOD, because curious minds are begging to know, "What are the Soho House Awards?" and "Where did they go?" and "What do they acknowledge?" and "Why was every celebrity there?" and "Do these awards violate the Hollywood strikes?" and also "OK??"

I have uncovered some answers to these questions. The exclusive members' club popular amongst celebrities and upper management at creative ad agencies threw their second annual awards show at DUMBO House in Brooklyn. According to the website, the awards are "designed to recognise and spotlight the incredible work of creative talents across our membership: from established icons to future stars, undiscovered changemakers and all of those in between."
Present at last night's ceremony were, drum roll please, Paul Mescal, Kaia Gerber, Taika Waititi, Karen Pittman, Ayo Edebiri, Julia Fox, Mae Martin, Emma Corrin, Daniel Kaluuya, Emma Watson, Haley Lu Richardson, Alan Cumming, Lena Dunham's mom and dad, and Thom Browne...to name a few.
The categories included: Best Actor, Best Entrepreneur, Creator of the Year, Breakthrough Artist, Breakthrough Actress, Breakthrough Designer, Changemaker, and new this year, the 59% Gen Now Award presented by Daniel Kaluuya (which apparently is an award created by Kaluuya's production company, 59% Productions). Sure!
Where to start?! My immediate thought is that the celebrities are really missing their natural habitats—red carpets and sitting around tables clapping for a peer who may or may not be slightly roasting them—because of the double Hollywood strikes. So, like moths to a flame, they find themselves drifting to any sort of step and repeat.
Last year's inaugural Soho House Awards boasted a real who's who of Brits— Michaela Coel, John Boyega, Kaluuya again, Olympic diver Tom Daley, and literary agent Felicity Blunt. This year, however, with everyone's schedule wide open because they can't promote films, write films, be in films, or even think about being in films, attendance of A-listers skyrocketed.
The SAG-AFTRA strike does forbid members from attending award shows, however. So what I'm wondering is: Are the Soho Awards in defiance of the strikes? Is Mescal, who took home "Best Actor" a scab?! Though perhaps, if you're just giving out broad awards like "Best Actor" and "Changemaker" and those, uh, recognitions, aren't tied to a specific project then maybe they aren't infractions? Perhaps the Soho House Awards are about as effectual as "Cool Dude Award" and "Glamour Girl of the Year" or "Hottie I Want to Sit Poolside With"?
Regardless, congrats to all the nominees and the winners. It's great to see you all back where you belong, even though it's like a Truman Show version of where you actually belong.
---