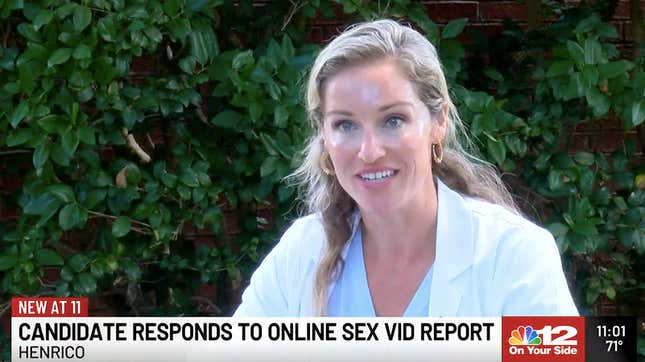 Susanna Gibson is a nurse practitioner and a pro-choice Democratic currently running to represent suburban Richmond, Virginia, in the state House in November. So Republicans are attempting to smear her for having sex with her husband on livestreams. An anonymous Republican leaked the archived videos to reporters in what could very likely be a sex crime. And it's all feeling like a conveniently timed story meant to distract voters from the fact that Republicans are desperate to pass an abortion ban—and Gibson is running in a toss-up district against someone who would vote to ban abortion.
Missouri Wants to Trap Its Own Citizens
Gibson and her husband, John, reportedly had an account on the website Chaturbate where they livestreamed themselves having sex and asked viewers for tips. Those videos were apparently archived on other sites without the Gibsons' knowledge—which is what the anonymous Republican operative told the Washington Post. That person also shared screenshots with the Associated Press, something Gibson's lawyer, Daniel Watkins, called "a criminal act." He told the Post he believed this was a violation of Virginia's revenge porn law, which makes it a Class 1 misdemeanor to "maliciously" distribute sexual or nude images of someone else with "intent to coerce, harass, or intimidate."
If Virginia Republicans hold the House and win control of the Senate, they could pass an abortion ban pushed by Gov. Glenn Youngkin (R)—a fact the Post doesn't mention until the 25th paragraph of the story. Virginia is the last state in the South without significant restrictions on abortion. Gibson told the Post that the disclosure of the videos was "an illegal invasion of my privacy designed to humiliate me and my family." She continued, "It won't intimidate me and it won't silence me."
The Post made the deeply weird choice to publish this story on Monday in which they attempted to explain why doing so wasn't revenge porn, and why they granted anonymity to the Republican operative who tipped them off about the videos because that person wanted to "avoid being drawn into the controversy." Basically, they said reporting this opposition research tip was all fine because the streaming website Chaturbate wasn't password-protected:

The Post typically does not identify victims of alleged sex crimes to protect their privacy. In this case, Gibson originally live-streamed these sexual acts on a site that was not password-protected and was widely available on Chaturbate, where the couple had more than 5,700 followers. Many of the videos remained available to the public on other unrestricted sites as of Saturday. Watkins said Gibson was not aware of, and had not authorized, the posting of Chaturbate material on other sites.
Gibson's Republican opponent for the House of Delegates' 57th district is David Owen, who was in the news last week for being caught on camera saying that he's "pro-life" and that he supports a 15-week ban. He said, in a written statement to the Post, that "Me and my team found out about this story today like everyone else." Uh-huh.

Virginia is a huge abortion battleground this fall, a fact that news outlets have been hammering in recent weeks. Youngkin's Spirit of Virginia PAC has been conducting focus groups on abortion throughout the summer and sources told NBC News that passing a 15-week ban is a legislative priority. (Senate Democrats blocked the ban the first time Youngkin tried it in January 2023.) After Virginia Democrats sounded the alarm that the GOP could sweep the General Assembly, President Joe Biden directed the Democratic National Committee to spend $1.2 million on legislative races. There's also chatter that Youngkin could become a last-minute candidate for president.
"My political opponents and their Republican allies have proven they're willing to commit a sex crime to attack me and my family," Gibson said. "My opponent and his allies know that the people of this district are on our side on the issues, so they're stooping to the worst gutter politics."
So, yeah, the most important thing about Gibson's videos with her husband is that her opponent wants to ban abortion—end of story.